April 30 morning update: The latest on the coronavirus and Maine
Posted on April 30, 2020 | News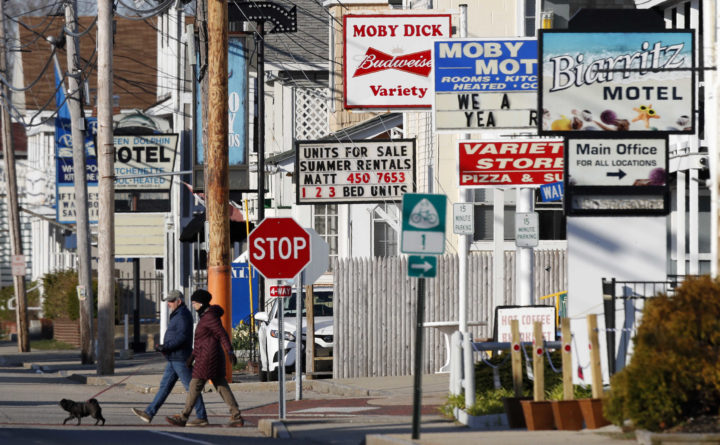 Today is Thursday. There have now been 1,056 confirmed cases of the new coronavirus spread across all of Maine's counties, according to the Maine Center for Disease Control and Prevention.
Health officials confirmed the death of a woman in her 70s from Cumberland County, bringing the statewide death toll to 52.
So far, 166 Mainers have been hospitalized at some point with COVID-19, the illness caused by the coronavirus, while another 615 people have fully recovered from the coronavirus, meaning there are 389 active cases in the state. That's down from 404 on Tuesday.
Here's the latest on the coronavirus and its impact in Maine:
— The Maine CDC will provide an update on the coronavirus this afternoon. The BDN will livestream the briefing.
— Businesses including barber shops, salons and car dealerships can reopen on Friday as part of Democratic Gov. Janet Mills' plan to gradually reopen Maine's economy. The four-phase plan aims to allow businesses to recover from the coronavirus-induced shutdown while preventing a resurgence of the disease. But regulators will not initially verify that the practices are being followed.
— Frustrated businesses pressed Maine's top economic development official Wednesday on how they will be able to restart under a reopening plan that includes 14-day quarantines for out-of-state tourists and runs through the late summer. The tourism industry, whose hotel, restaurant and bar owners have been hit hard by the economic shutdown and stay-at-home order, has been frustrated by the reopening schedule and lack of details. Certain lodging and campgrounds can open June 1 under stage 2 of the plan for Maine residents and those who have met the 14-day quarantine requirement. More lodging opens up July 1 in stage 3 of the governor's plan, but it also includes quarantines for people entering Maine.
— Maine's 10 most popular state parks are going to remain closed until at least June 1 under Mills' new executive order that aims to reopen the state's economy. This year's TD Beach to Beacon 10K road race in Cape Elizabeth has been canceled due to concerns about the possible spread of the coronavirus, according to race organizers. Other upcoming events that have been canceled include Bangor's Memorial Day parade, the Maine Lobster Festival and the North Atlantic Blues Festival.
— A staffing firm that employs some of the doctors in three rural Maine hospitals — including two that are now in bankruptcy and suing the federal government for stimulus funding — is reportedly considering filing for bankruptcy itself as a result of steep revenue shortfalls related to the coronavirus. Just as those hospitals have lost considerable revenue after preparing to handle the pandemic, Envision Healthcare Corp. is struggling to pay off $7 billion in debt after the crisis forced medical systems all across the U.S. to delay lucrative elective services.
— There is now an outbreak of the coronavirus among people who visited the Hope House Health and Living Center in Bangor. Twenty-one homeless shelter residents and staff have tested positive for the virus, the shelter said on Wednesday. Meanwhile, eight cases have been detected at the Tyson Foods plant in Portland, marking the first instance of an outbreak in Maine at a food processing facility.
— A Guilford company that makes the medical swabs necessary to test for the coronavirus has identified a location in Pittsfield where it would open a second manufacturing facility to help meet the spike in demand for its products. The company, Puritan Medical Products, is now working with a regional organization, Eastern Maine Development Corp., "to identify and hire 140 new production workers in their new manufacturing location," according to Lee Umphrey, EMDC's president and CEO.
— A federal judge has ruled in favor of a Maine tribe and several others by blocking the U.S. Department of Treasury from distributing federal coronavirus relief funds to a set of for-profit corporations created by tribes in Alaska. However, it's not clear when the Houlton Band of Maliseet Indians and other federally recognized tribes will receive a portion of the $8 billion set aside for tribal governments in the $2.2 trillion stimulus package.
— Republican President Donald Trump said Wednesday the federal government's coronavirus social distancing guidelines will be "fading out" when they expire Thursday, counting on states taking charge as they pivot to reopening. The administration says its cautionary guidance issued 45 days ago has been incorporated into recommendations given to the states on how they can begin gradually easing restrictions and reopening their economies.
— As of early Thursday morning, the coronavirus has sickened 1,040,488 people in all 50 states, the District of Columbia, Puerto Rico, Guam, the Northern Mariana Islands and the U.S. Virgin Islands, as well as caused 60,999 deaths, according to Johns Hopkins University of Medicine.
— Elsewhere in New England, there have been 3,405 coronavirus deaths in Massachusetts, 2,168 in Connecticut, 251 in Rhode Island, 60 in New Hampshire and 47 in Vermont.