Bangor Art Society finds creative way to hold 145th anniversary show
Posted on May 21, 2020 | Success Stories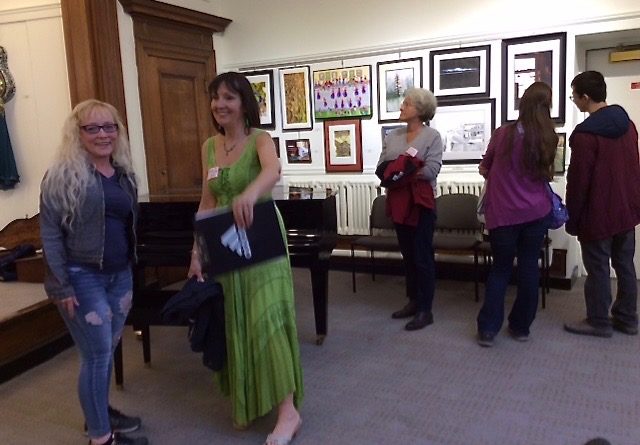 By Molly Mayo, BDN Community Author
This year marks the 145th anniversary year of the Bangor Art Society. While many of the group's art exhibits have changed since 1875, the annual open juried art show has been a part of the group's history for as long as they can remember. So, although our nation is facing some of the strangest times in world history, causing an art show to be rather tricky, the Bangor Art Society was determined to find a creative way to host their show. "We decided to be the light in this crisis. That is why we're doing it," said Teddi Jan Covell, the Bangor Art Society president of five years. What followed was a natural collaboration of different tools the society has used in the past.
Eight-year member and watercolor artist, Obrianna Cornelius, observes, "With COVID-19 there are fewer opportunities for artists this year. In fact, many artists are out of work and will not have their local shops, workshop teaching opportunities, festivals and shows to participate in." She goes on to say, "the open juried show provides an opportunity that artists can look forward to in these uncertain times. I always look at the show as motivation to create something worthy of entering. It forces me to set a goal and a time frame."
"We're in our studios, a long way away from each other," said Covell, "But we're still producing and creating. That's what the world has got to know." Putting pen to paper, Covell came up with a creative solution to the 145th anniversary art show. Using Facebook Live, in-person judging and internet sales on the society's website, the art show was rescued from hibernation.
This year the art show is excited to have Carl Little, author and artist of "Art of Katahdin," "Art of Acadia" and "Paintings of Portland" as judge. Covell speaks highly of Little saying, "he is very influential and a good critic. If you are an artist in the state of Maine, you want your work in front of Carl Little's eyes."
As it was important for Little to judge the artwork in person, a plan was devised for local artists to submit their artwork in person. Although Covell jokes that the Bangor Art Society itself is homeless, Lee Umphrey, CEO of Eastern Maine Development Corporation (EMDC) generously supplied a venue for the arts. On Monday, June 1, registered artists bring their artwork in to the third-floor offices of the EMDC. Organized by a last name basis, artists have specific time frames to submit their art. Fortunately, with a spacious parking lot nearby, the group can maintain health regulations while making the art show possible. In the past, the art show has displayed about 80 local Maine artists with over 100 pieces of art. From middle schoolers to senior citizens, the show is a myriad of local talent and beauty.
"It is very important to have my work seen and critiqued by artists and a judge that I can admire," says Cornelius. "I learn what I am doing well and where I can improve. Participating in these shows allows me to look at other people's work for inspiration and trends. I love to hear the feedback, and the chance to win an award is always exciting too!"
Art falls into one of five mediums: oils/acrylics, watercolor, drawing, photography, and other- mixed media, sculpture, fabric, etc. There is no size restriction on any submissions, however a wire hanger is required so the piece can be hung in the gallery. "You want it to look professional and worthy of an award," Covell recommends. With prizes equaling $3,000, an award is presented to the best of each medium submitted, as well as two additional categories: best of show and people's choice. Last year's winners included Roberta Goschke with a still life oil painting, Ellen Pelletier with an art drawing and Mike Vermette with a watercolor painting.
This year the awards ceremony will be held on June 5 via a Facebook Live event. According to Covell, "The intent is to continue the celebration of artistic expression, reward excellence by providing artists with opportunities to win cash money, and for people to view and appreciate art." While the artwork will only be held on display at EMDC until June 15, all art in the show will be featured on their website (thebangorartsociety.com) for the entire summer. To quote Covell, "Throughout world history art has been the light. Right now we're the flame and we want to ignite the community!"