Building to become entrepreneurship center in Machias
Posted on October 11, 2019 | Success Stories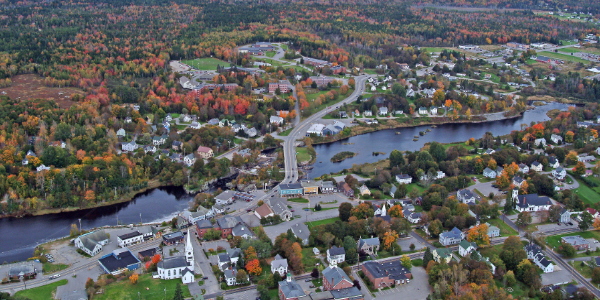 The Quoddy Tides by Lora Whelan
A long‑vacant storefront in the Machias downtown, the former Nash building, is on the path to becoming the Machias Valley Center for Entrepreneurship. The center has been in the planning for two years, with architectural and engineering assessments of the building taking place before the building receives an overhaul to accommodate its new life serving the region.
Sunrise County Economic Council Executive Director Charles Rudelitch explains, "The primary objective is to demonstrate the community's commitment to entrepreneurship," and for community members to explore entrepreneurship as a viable economic path, bringing new vigor and prosperity to the region.
The business incubator program in the center will focus on a cohort model, gathering different categories of potential or existing entrepreneurs together to promote learning. Potential categories might include: people who have existing businesses; those who are thinking of buying one, starting one or moving to the area to start or buy one; business students in their junior and senior years; businesses in ownership transition; and more. The goal is to raise awareness and promote entrepreneurship as a viable career, says Rudelitch.
The building will have another purpose besides hosting classes, workshops and training events for entrepreneurship cohorts. The center's first floor will house a co‑working space. While the nation has seen a plethora of for‑profit co‑working spaces, Rudelitch believes that a nonprofit model will better serve places like Washington County. If it's successful, it's a model that will likely be replicated elsewhere, Rudelitch adds. For anyone needing office space and amenities without the cost associated with having a full‑blown office, the co‑working space will fill the need. A membership fee will provide access to the office and meeting room space, along with equipment and technology necessary for today's business person to conduct their work.
Partners in the center's program development include Washington County Community College, University of Maine at Machias, Coastal Enterprises, Eastern Maine Development Corporation, SCORE, FOCUS Maine, the Maine Center for Entrepreneurship, commercial lenders and more. Machias Savings Bank has played a key role, Rudelitch notes, by donating the building to SCEC and providing over $200,000 in building funds and endowment. Bangor Savings Bank, the First National Bank and the Pratt Dealerships have also provided significant support.
SCEC expects that the costs to renovate, expand, modernize and equip the building will be in the $500,000 range, pending the final engineering and architectural assessments. Structural issues did bump the initial cost estimate up from $400,000. The goal is to start construction in late 2020 with an opening in 2021.