Business, Community and Workforce Partners Recognized
Posted on December 4, 2019 | Success Stories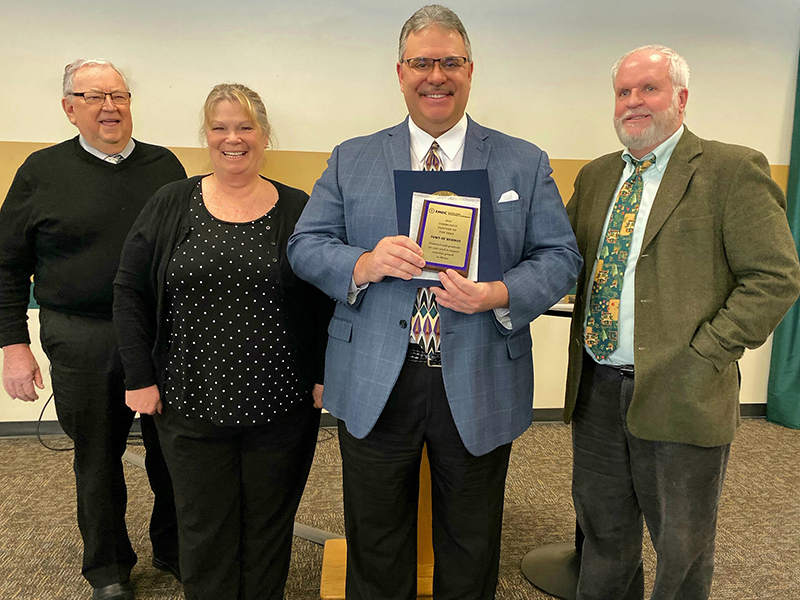 Eastern Maine Development Corporation is pleased to recognize partners who join them in promoting economic vibrancy through collaboration and delivery of hands-on services at their Annual Community Awards Ceremony on Thursday, December 5th at 1:00pm at Husson University's Center for Family Business. Join EMDC in celebrating this year's winners.
Business Partner of the Year, Print Bangor. Co-Owners of the family-owned print shop in Downtown Bangor, Elena and Ben Metzger, have shown a continuous commitment to mentor aspiring entrepreneurs throughout Eastern Maine. Their involvement in service organizations including UpStart Maine and the Bangor Region Chamber of Commerce foster innovation and investment in the Greater Bangor region. As a graduate of the SBA's 2018 Emerging Leaders program, Elena and Print Bangor's Co-Owner Ben continue to find new ways to grow, all while mentoring other entrepreneurs and supporting other local business owners in the region.
Community Partner of the Year, the Town of Hermon. Howard Kroll, Town Manager of Hermon and Scott Perkins, Economic Development Director of Hermon continue to promote partnerships and foster collaboration. Their recent partnership with EMDC, CMQ Railway, Maine DECD and Maine DOT on a multi-modal transportation terminal planning project will create an efficient movement of goods in and out of Maine. With a 1% vacancy rate on their industrial inventory, the Town of Hermon is supporting hundreds of jobs, planning valuable infrastructure, and offering housing that is the "perfect mixture of convenience and quiet country living."
Matt Tardie Workforce Partner of the Year, Bangor Adult Education. Named in memory of Matt Tardie who committed his work to helping businesses and job seekers thrive; he promoted hope and empowerment by working with people who have barriers to employment, including those on the path to recovery. Bangor Adult Education Executive Director, Greg Leavitt, has worked with EMDC and other education partners to design short-term trainings based on demand created by Maine's growing industries and adult learners. They work with local employers to offer industry-specific trainings. They think outside of the box with their eagerness to work with public and private partners. Bangor Adult Education's their implementation of critical education makes them a valuable asset to our community.
Tom Davis Employee of the Year, TBA. Named in memory of Tom Davis, longtime Penobscot County Commissioner and EMDC Board member who showed exceptional dedication, steadfast in his commitment to economic development in Penobscot County. This individual demonstrates high-level dedication to their job. The individual exhibits excellent relations with co-workers and the public, serves as a role model for others and possesses excellent interpersonal skills. The staff member consistently demonstrates good work habits and dedication to his or her job, performs job duties in an efficient manner, and communicates effectively with other employees. This person is viewed by colleagues as having performed a noteworthy service to EMDC.