Bust turns into boon: When financing fell apart in the pandemic, GO Lab got creative
Posted on April 5, 2021 | Success Stories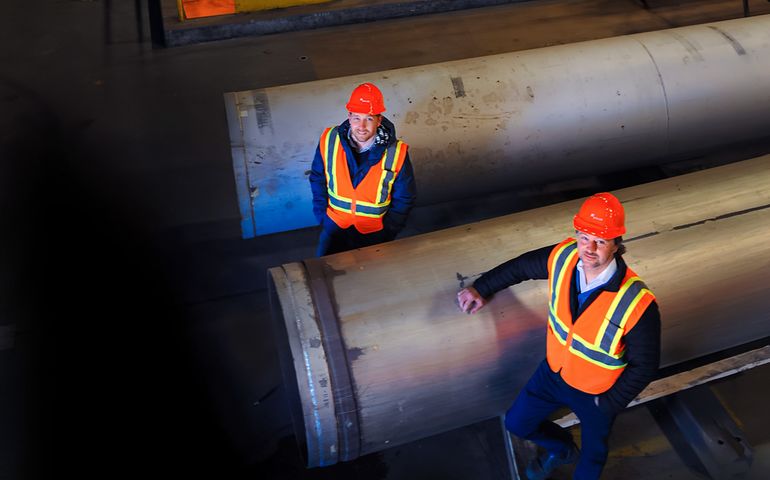 GO Lab had spent three years putting together a plan to produce wood fiber insulation at the former Madison paper mill. All that was left was to finalize financing for the $65 million startup cost.
When the pandemic hit, it busted the deal. "It completely changed our dynamic for the rollout," says Matt O'Malia, who founded the company with Josh Henry.
Changed it in a way that was transformational. There are new investors, a marketing chief who's putting the product on the national radar and a planned $100 million rollout.
"We have a much better project now than we had before," O'Malia says. "It's a bigger vehicle, it's a lot more expensive, but it's a better fit."
Last month, the Finance Authority of Maine approved $85 million in conduit bond financing through its Revenue Obligations Securities Program, matched with $30 million in equity raised by GO Lab. But that's getting ahead of the story.
Hello, plan B
With a plan all set to manufacture loose insulation this year, phasing in batt and board insulation over the next year, O'Malia and Henry traveled to Europe early last year to finalize an investment deal based on New Markets Tax Credits.
The trip was the culmination of a buildup that began in 2016 when the pair decided to figure out a way to produce wood insulation, popular in Europe, but not made in the U.S. O'Malia, an architect, and Henry, a chemistry professor, felt the time was right for the sustainable and environment-friendly product.
The project picked up steam in 2017 when German company Homanit Building Materials offered a bargain price on the production equipment that would be $25 million new. With a deal set for the equipment, they bought the Madison mill for $1.4 million in 2019.
All that was left in February 2020 was to finalize the financing. But within days of their return home, travel to Europe shut down.
"We had the credit allocated, and it was a very promising approach, but without our key investor we couldn't close that deal," O'Malia says.
The tax credits have a shelf life, so they needed a new plan. "We had to think completely differently about how we get this project at this scale up and running," he says.
While the FAME bond had been an option low on the list, it now moved up. It turned out to be a brilliant move. "It's a really good deal for us," O'Malia says. "It puts us in so much a better position than we were."
The bonding, for which FAME acts as a conduit, requires all the financing be determined, so they had to rejigger the rollout and get rid of the phases of development. They also had to raise $30 million in equity.
As a result, "We've found investors who've brought a lot to our project that we didn't have before," O'Malia says. Before they hadn't looked for them, because with the initial plan they didn't need them.
Manufacturing and more
The nature of what GO Lab will produce is tricky as far as investment goes.
"Manufacturing for a long time in the United States hasn't seen a lot of investment," Henry says.
On top of it, the FAME conduit bonds are capped at $10 million for manufacturing, says Chris Roney, FAME's general counsel.
But since Timber HP is made from cast-off timber industry products, it fit another category with no such cap — solid waste.
The bond is one of the largest conduit bonds FAME has issued, Roney says. He worked with GO Lab as they figured out the financing. "The evolution has been interesting," he says.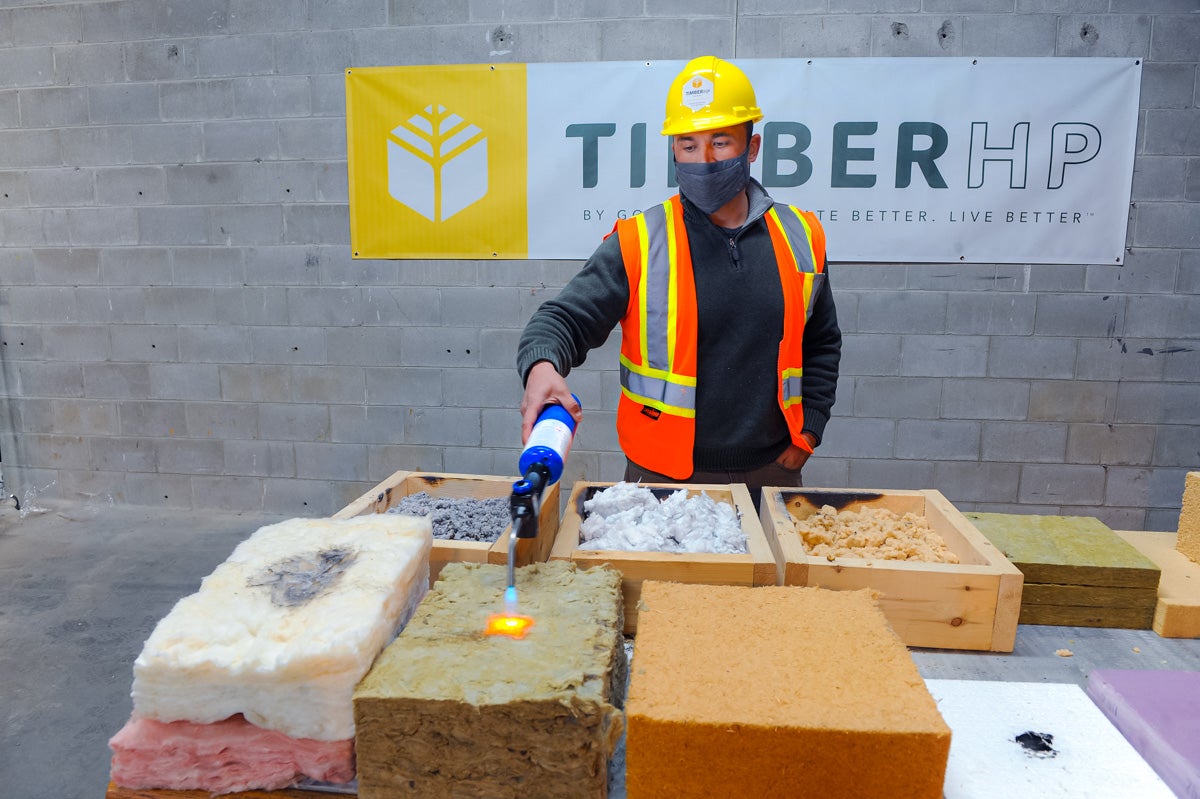 Photo / Fred Field Scott Dionne, CMO for GO Lab, demonstrates the relative fire resistance of different types of insulation.
He says the product more than meets the criteria it needs to qualify for the bonds — benefit the state's economy and create jobs. Aside from the boost to the timber industry and environment, "it will create a substantial number of jobs in an economically challenged part of the state."
Pivotal marketing hire
Henry says as the project gained traction over the summer, the staff, including some who worked at the mill before it shut down in 2015, were key. "We've hired a lot of really good people who've just dug in," he says.
They also hired Scott Dionne as chief marketing officer, which was pivotal, Henry and O'Malia say.
They bought the equipment, they bought the mill, O'Malia says. They loved their product. But something was missing.
"We had the bones of how to produce the product, but not from the market approach side," he says. Investors wanted to know things like "How are you going to go to market? How does this even flesh out?"
Dionne, who'd been vice president of operations for S.W. Collins in Caribou for more than 13 years, was an industry expert they wanted on board. When Henry called him last summer, Dionne spent two hours grilling him.
"I said, 'I understand it's a great sustainable, environmentally sound product, but it doesn't matter. If it doesn't perform, no one's going to buy it,'" Dionne says.
The name, Timber HP — HP for "high performance" — matters, he says.
"You have to be high performance first, then you can start talking about a healthy planet and healthy people," he says. "If you're going to mainstream, you're going to have to mainstream on performance."
When investors understood the approach to market, Henry says, "They were coming out of that conservative mindset, the pandemic put in people's heads and looking for things to invest in. We were ready at that point with a really fresh approach that [Dionne] had guided us to."
O'Malia adds, "We don't enter the market as a niche product, but as one that's scalable for a national market."
It's worked to the point that the product is now being watched on a national scale to see what happens, Henry says. GO Lab is also looking to expand to the timber-rich Northwest.
O'Malia and Henry say the year was tough, but there was no thought of quitting.
"From the day we set forth doing it, there was never a question of whether we were going to complete it," Henry says. "Our mindset was we are going to figure this out, we're not just going to get ourselves and our families, the community involved, then back away."
Photo / Fred Field One of multiple electrical transformer stations at the GO Lab location on the Kennebec River in Madison.
What is FAME conduit bonding?
The Finance Authority of Maine's Revenue Obligations Securities Program provides tax-exempt bond financing to eligible borrowers without obligation on the part of the state. The bonds carry no liability or credit enhancement on the part of FAME or the state. FAME is a conduit for borrowers that allows them to access favorable interest rates. The aim is to stimulate the economy and create and retain jobs.
Chris Roney, FAME general counsel, says the program is a hidden gem that more businesses should take advantage. "It's a rare economic developer program in that companies don't have to put their assets at risk," he says. While the criteria can be narrow, "If it fits, it's a great option."
The bonds are authorized by the Internal Revenue Code in order to stimulate economic development in certain targeted industries. The Maine projects financed in recent years range from nonprofit health and higher education to solid waste improvements, public infrastructure, and manufacturing. Tax-exempt private activity bonds have helped create and retain thousands of Maine jobs over the past five years, according to FAME.
GO Lab financing
GO Lab has leveraged financing from several sources for various parts of its Timber HP startup, including buying the mill property, buying the equipment and bringing it over from Germany, redevelopment of the property and more.
FAME: Besides the conduit bond, $860,000 in Seed Capital Tax Credit financing and a direct loan of $1,200,000, with FAME as lead lender at $500,000.
Coastal Enterprises Inc.: $250,000
Maine Technology Institute: $200,000
Eastern Maine Development Corp.: $250,000 loan
Maine Rural Development Authority: $500,000
Town of Madison: $400,000 loan, which includes a Community Development Block Grant contribution through the state Department of Economic and Community Development of $300,000, which will be used for engineering costs.
Somerset Economic Development Corp.: $300,000 loan