CEDS Central: EMDC's Economic Opportunity Response Team
Posted on March 26, 2020 | Success Stories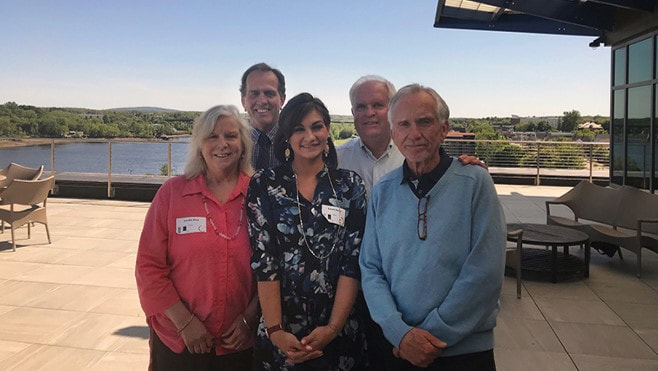 Communities around the country are working hard to adapt to the changing economic landscape of these uncertain times. In the tree-covered northeast, the Eastern Maine Development Corporation (EMDC) has been creating and implementing an exciting new framework to address the needs of various local communities in their region. Many of these places were long dependent on paper mills that stood as the primary economic activity for entire towns or counties. When some of these mills closed due to a challenging global paper market, Maine communities were hard-hit with sudden and severe unemployment, which led to a domino-effect of economic loss that hurt local restaurants, shops, and other businesses. Homes were foreclosed, properties abandoned, businesses closed, and the communities struggled to rebuild.
Enter EMDC and its new model for economic development, the Economic Opportunity Response Team (EORT), which has transformed how the organization does business and carries out its CEDS. EMDC had studied the issues that the region was facing and came to the conclusion that the best way to improve community resilience was to promote economic diversification. Because there was no single model or solution that could be used as a template to assist all communities, EMDC needed to develop individualized plans, strategies, and partnerships that could address the specific needs of each town. This led to the creation of Response Teams that are comprised of planners, community officials, investors, development analysts, and other experts to formulate unique strategies that are tailored to each individual area.
The EORT model integrates a variety of development practices, such as climate change resiliency, economic gardening, grants development strategic planning, site selection with GIS mapping, private investment assistance, and development modeling. By bringing experts, investors, and service providers to the table, the Response Teams are able to provide innovative and diverse options to help their communities build resilience and improve quality of life in the region. For example, one strategy created a partnership of service providers to support ex-offenders, including those in recovery, to help them successfully re-enter society from incarceration. Services have included guidance with resume writing, interviewing, job market research, and financial literacy coupled with addiction counseling and support systems.
At the end of the planning and strategizing process, the Response Teams write a targeted road map and EMDC then helps communities secure funding, formalize partnerships, troubleshoot obstacles, and report on progress to stakeholders at all levels. The EORT model is designed to deliver continuing support to community partners to ensure that they have all the resources they need to successfully implement the new plan and bring about results.
This new model has completely reframed how EMDC engages in regional economic development. It has impacted how the organization writes its CEDS plan: as the EORT model evolved, the CEDS began to reflect the individualized, integrated, and long-term nature of their new organizational framework. And it's having impressive results: small towns such as Lincoln and Bucksport have experienced revitalization and economic diversification, including investments from the ME State Advisory Board and Microsoft. Because of the partnerships formed and successes achieved through this effort, EMDC now recognizes EORT approach as the model for economic development in the region and has positioned local communities to better respond to the challenges it faces now and in the future.
For more information about the Eastern Maine Development Corporation, click here.
This case study was written by Austin Barrington, NADO Research Foundation Graduate Fellow