Eastern Maine Development Corporation facilitates economic strategy session with Gov. Mills and business, workforce and community leaders
Posted on January 2, 2020 | Success Stories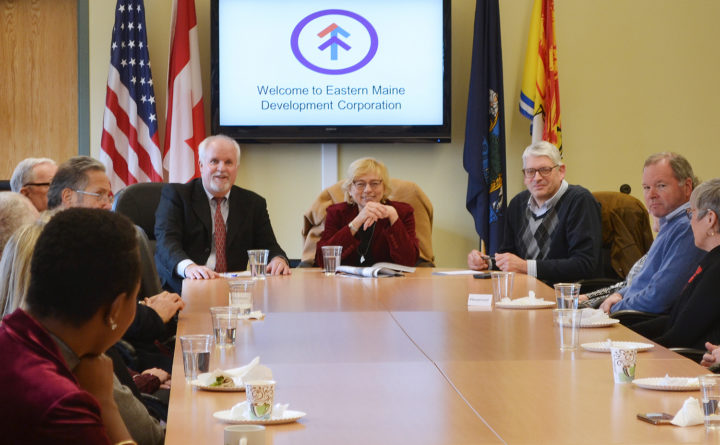 BANGOR – In its expanding role as a catalyst for thoughtful economic planning, workforce expansion and community vibrancy, Eastern Maine Development Corporation (www.EMDC.org) brought 65 elected officials, economic experts and community leaders together for a focused conversation with Gov. Janet Mills. Maine Department of Economic and Community Development Commissioner Heather Johnson also participated in the event held at EMDC headquarters in Bangor.
Organized by EMDC President and CEO Lee Umphrey, the exchange of ideas and information addressed municipal and regional issues of particular importance to eastern and northern Maine. Opening the session, Umphrey highlighted a renewed spirit of partnership and collaboration between state government and stakeholders at the municipal, county and regional levels, "The Governor, commissioners and state agencies have done a remarkable job in changing the climate and revitalizing the connections between Augusta and communities throughout our region."
Taking notes and listening carefully, Gov. Mills emphasized her openness to recommendations, and said her administration seeks to work collaboratively with communities, "We share common goals and I look forward to working with you to strengthen this region and all of Maine."
The gathering follows the Dec. 11 release of the Governor's Ten Year Strategic Economic Development Plan (www.maine.gov/governor/mills/news/governor-mills-unveils-ten-year-strategic-economic-development-plan-focused-promoting).
Among many issues raised, the Governor spotlighted her administration's focus on both attracting new business and residents to Maine, but also on the need to cultivate and support the talents and experience of people already in the state who wish to become entrepreneurs or simply enter the workforce, including people in recovery from substance use disorders and those re-entering communities following a period of incarceration. Bangor Mayor Clare Davitt reiterated the importance of reducing barrier to meaningful employment for individuals with challenges in their past.
Maine Multicultural Center President Krishna Jamadagni drew attention to the importance of welcoming and supporting diversity in our state, and how it both enhances our communities, strengthens the workforce, and enriches the business community. The Governor shared her vision of Maine being more open and welcoming and said her Administration is working to make it easier for people from other nations to use their skills and professional credentials in Maine.
Penobscot County Commissioner Peter Baldacci joined Umphrey in noting the value of regional cooperation, relationship building and creative approaches to economic development, particularly in rural areas. They highlighted the Katahdin region with the creation of Katahdin Region Development Board. Partnerships involving Penobscot County, municipal officials, business operators, EMDC and others have given new life and a renewed sense of energy to economic development in the region. Through this collaboration, a new Economic Development Director for the Katahdin Region, Mike Elliott, hit the ground running earlier this year (www.emdc.org/services/katahdinregion/).
Representatives from Bangor, Brewer, Bucksport, Searsport, Ellsworth, Lincoln, East Millinocket, Orono and Old Town and Island Falls among others, shared updates on progress being made in their community and emphasized the value in working productively within the region and with state government. Peggy Daigle, who serves in elective office in East Millinocket, said there's a competition at times between communities, which is often healthy, but there's much to be gained by coordinating and learning from each other.
"There are so many examples of community resilience just in this room," Gov. Mills said as she closed the meeting. "Some of the things we think of as liabilities are actually our assets. Our forest lands, our clean water, our clean air, our cold weather. I am eager to work with all of you, so is Commissioner Johnson and all of our 15 cabinet members. In our administration you will always find an open door, an open mind, and an open heart. I am with you all the way."