Eastern Maine Development Corporation Leads Successful Initiative to Secure Over $6 Million in Federal Funding to Fight Maine's Opioid Crisis
Posted on February 19, 2020 | Success Stories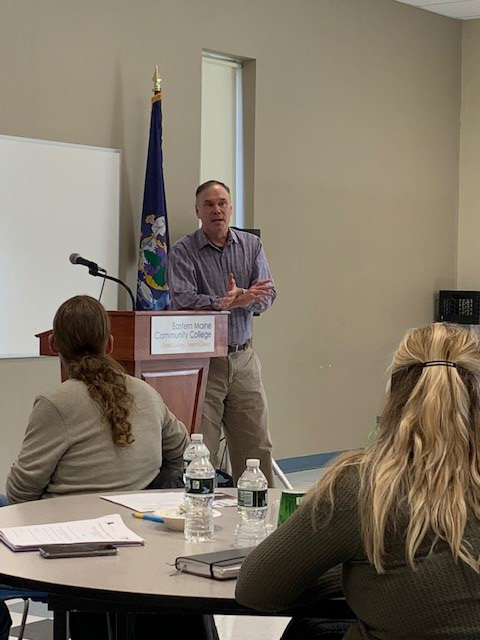 U.S. DOL Grant to Strengthen Maine Workforce Development Efforts, Helping People Impacted and Mitigating the Crisis by Bolstering Health Care Occupations
BANGOR, ME – Eastern Maine Development Corporation (EMDC) President and CEO Lee Umphrey said Wednesday's awarding of up to $6.28 million in funding from the U.S. Department of Labor will mobilize trained teams throughout the state to develop and deliver life-changing services to people directly impacted by the opioid crisis.
With the immediate release of over $2 million, the grant will create and expand workforce development initiatives aimed at providing education, training, employment and supportive services to those in recovery from opioid use disorder and others affected. Additionally, the grant is expected to broaden and hasten recovery efforts in Maine by training displaced workers for occupations in the mental health and substance use disorder treatment fields.
"The opioid epidemic and substance abuse in general have rocked our communities," Umphrey said. "EMDC is ready to capitalize on this moment and target needed resources to individuals and families who need hope and opportunity. We're grateful for the opportunity to have coordinated the research and grant writing with our partners at the Maine Department of Labor and Governor's Office on Opioid Response."
"This process greatly benefitted from the leadership and passion of Joanna Russell and the Northeastern Workforce Development Board, as well as the support and engagement of Penobscot and Hancock County Commissioners, Maine DOL Commissioner Laura Fortman and Gordon Smith, the State's Director of Opioid Response," Umphrey added.
EMDC is a leader in providing resources and career advising to individuals with barriers to education and employment. During the past two years, the non-profit has significantly expanded its outreach and service delivery to people in recovery from substance use disorder and individuals reentering Maine communities from places of incarceration who seek a new start. EMDC recognizes the value in preparing them for productive and meaningful careers, and appreciates the benefits to businesses.
In 2017, EMDC worked with the Northeastern Workforce Development Board to create a Recovery Workforce Initiative to assist people in recovery or with criminal records receive support and find opportunities.
EMDC prioritizes innovation and collaboration, and seeks to strengthen the economy by keeping up with the changing needs and expectations of job seekers and the business community. This federal Emergency Disaster Relief grant will extend that work much father into Maine's recovery community and within relevant health care professions.
Specifically, through the efforts of new Peer Connectors and other professionals, support will be provided to Maine's Adult Drug Treatment Courts, community recovery centers, recovery residences, correctional facilities and non-profits providing services to the impacted population. 
The U.S. Department of Health and Human Services declared a national opioid-related public health emergency in 2017. In doing so, funding was made available through the U.S. Department of Labor to address workforce needs resulting from the opioid epidemic.
Eastern Maine Development Corporation is a non-profit based in Bangor, Maine fostering public-private partnerships and leveraging resources to help communities, businesses and individuals reach long-term goals and achieve prosperity. EMDC's service area covers Penobscot, Piscataquis, Hancock and Washington Counties.
Learn more from the Maine Department of Labor: https://bit.ly/2SXiBhM.
# # #