GO Lab, Inc. to Benefit from Maine Financing Partnership
Posted on September 10, 2019 | News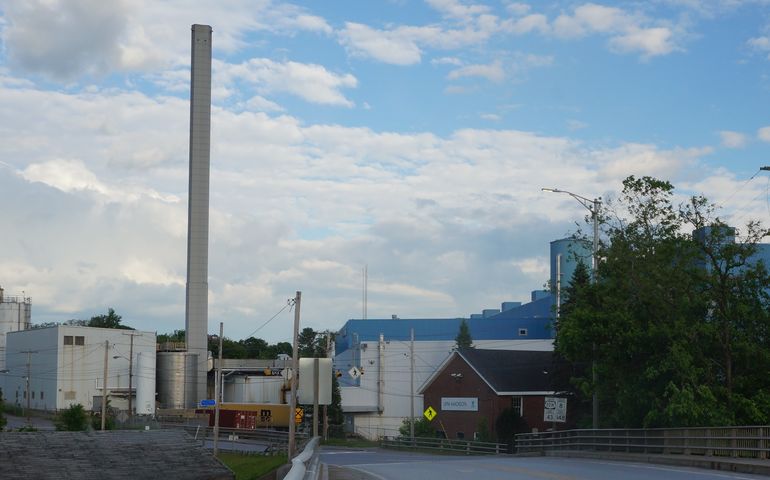 By FAME • September 10, 2019
DECD, FAME, MRDA, MTI, CEI, EMDC, Somerset Economic Development Corp., and Town of Madison collaborate to fund start-up at former Madison Mill in Somerset County
100 jobs are expected to be created in Somerset County
A diverse consortium of state and local funding entities has partnered to provide Belfast-based GO Lab, Inc. with $2.4 million in financing needed to complete the purchase and begin the refurbishment of the now-vacant Madison mill, as well as to purchase the necessary production equipment and transport it to the United States from Germany. Approximately 100 good-paying jobs are expected to be created in Somerset County as a result. The company plans to manufacture insulation products with wood fiber.
In March, a diverse group of state funding sources was brought together under the leadership of Maine Department of Economic and Community Development (DECD) Commissioner Heather Johnson in an effort to assist GO Lab, Inc. in securing funding to help purchase and refurbish the shuttered Madison mill once operated by Madison Paper Industries.
"This is an exciting project we are pleased to support. By partnering with state and local development entities we've been able to put together a financing package that helps to get GO Lab up and running. The use of wood fiber could help change the forestry industry in Maine by adding a new value-added product utilizing the vast forest resources of the state," stated DECD Commissioner Heather Johnson.
FAME has approved a FAME Direct Loan of $1,200,000 with FAME as lead lender at $500,000. Other partners in the loan include Coastal Enterprises Inc. (CEI) at $250,000, and Maine Technology Institute (MTI) at $200,000. Eastern Maine Development Corporation (EMDC) also has approved a $250,000 loan to round out the early-stage financing.
Other key Maine financing entities have partnered as well to provide critical financing for the project. The Maine Rural Development Authority (MRDA) has approved $500,000 for the project, while the Town of Madison has authorized a $400,000 loan, which includes a Community Development Block Grant Program (CDBG) contribution through the DECD of $300,000, which will be used for engineering costs. Additionally, the Somerset Economic Development Corp. (SEDC) has authorized a $300,000 loan for the project.
The loan proceeds, totaling $2.4 million, are part of a $60 plus million overall project.
"By finding new uses for wood fiber, which has the potential of re-vitalizing the wood industries in Maine, this project is expected to create 100 new jobs in Somerset County and help refurbish and revitalize the mill building," added Bruce Wagner, FAME CEO.
"We are grateful for the support of state and local financing partners. GO Lab, Inc. plans to revitalize the Madison mill and provide over 100 good-paying jobs, which will help stimulate the local economy, the forest practices industry, and the state of Maine as a whole," stated Dr. Joshua Henry, Go Lab, Inc. President.
"Maine's rural economy depends on natural resource innovations. CEI is pleased to invest in a next-generation model that leverages our forest product history while creating quality jobs in the region. It's a formula that contributes to building an economy that works for everyone," stated CEI Chief Investment Officer John Egan.
"GO Lab is the beginning of a new era for the wood product industry in Maine," said EMDC's President & CEO Lee Umphrey. "EMDC is pleased to be part of this endeavor to help Maine compete globally."
"SEDC is thrilled to have been able to play a part in the revitalization of the former Madison Paper Mill. GO Lab's innovative product line is a perfect fit for Somerset county in terms of available and capable workforce and the readily available raw material needed for production," stated Christian Savage, Executive Director of SEDC. He added: "The collaboration between several private and state agencies to make this project happen is a true testament of what doing business in Maine is all about."