Greenhead Lobster cuts ribbon on Bucksport plant
Posted on July 25, 2019 | Success Stories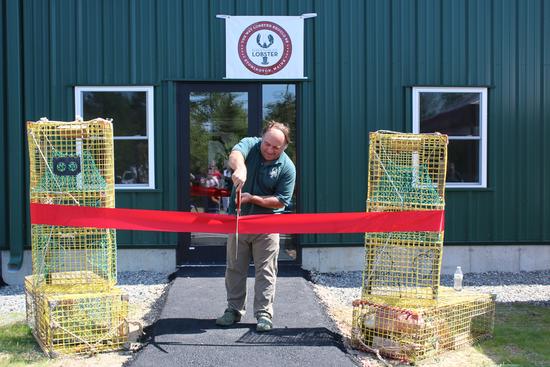 By Anne Berleant, Penobscot Bay Press • July 25, 2019
Greenhead Lobster owner Hugh Reynolds held a huge pair of scissors aloft as he cut the ribbon on a 15,000 square foot lobster processing facility on July 19, extending the Stonington business into Bucksport.
"We've brought innovation and technology to allow people to taste lobster as it would be fresh out of the water," Reynolds said.
The facility will take lobsters caught in Stonington waters and use hyperbaric pressure to kill pathogens and extend its shelf life to at least 30 days. Greenhead is targeting the domestic market, after trade tariffs have affected global markets, like big lobster importers China.
"All we need is three weeks to get it anywhere in the country," plant manager and Blue Hill resident Kris Grimnes said, as he led a tour through the facility. Automation, prompted in part by a labor shortage, will help speed the picking process for cooked claws and knuckles, while raw tails will be frozen for shipping, Grimnes noted. "Automation like this will really help us stay competitive."
The facility will employ about 50 part- and full-time employees during the height of the lobster season, from 6 a.m. to 6 p.m., in staggered shifts, five days a week, Human Resource Manager Joanne McIntyre said, with eight to 10 full-time, year-round employees.
Under a hot July sun, employees Lauren Davis, Lucy Bradshaw and Deanna Pfau fashioned mini lobster rolls to help celebrate ribbon-cutting day, before Reynolds raised his scissors, first thanking the town of Bucksport, Machias Savings Bank—and the lobster fishermen of Deer Isle and Stonington. "Thank you for supporting us and selling products to us, past and present," he said. "Our idea here is to take these lobsters and turn them into America's most unique and luxurious protein."