Here's how Maine ranks as place to start a business
Posted on July 21, 2021 | News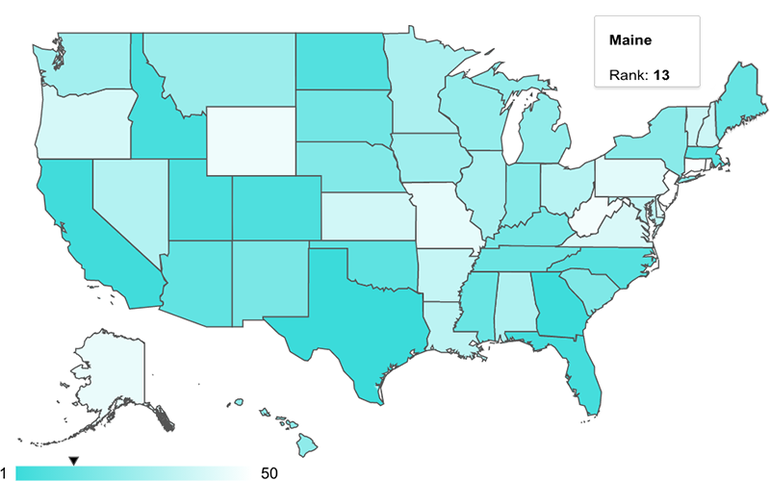 When it comes to starting a business, Maine gets strong marks in a state ranking released Tuesday by personal finance website WalletHub.
Maine came in at No. 13 in the nationwide comparison.
Texas topped the list, followed by Georgia, California, Florida and Idaho. New Jersey came in last at No. 50 overall and with the highest business costs.
States were judged on the basis of 28 key indicators of startup success to determine the most fertile grounds in which to launch and grow an enterprise. Each metric was graded on a 100-point scale, with business environment accounting for 50 points and access to resources and business costs accounting for 25 points each.
Maine fared best in the business environment category, where it was ranked No. 11, while coming in at No. 18 for business costs and No. 32 for access to resources. Factors making up the business environment score include the average length of the work week and startups per capita, while access to resources takes into account the availability of small-business loans and higher-education assets.
Citing U.S. Bureau of Labor Statistics data, WalletHub noted that about a fifth of all startups don't survive past year one of operation and nearly half never make it to their fifth anniversary.
"That's without considering the economic damage done by the COVID-19 pandemic, which resulted in 200,000 more permanent closures than usual within a year of the pandemic's start," the site said.
The study's authors also noted that a "bad location" is one of the most common reasons startups fail, and that a state providing ideal conditions for business creation, such as skilled workers and affordable office space, "can help new venture snot only take off but also thrive."
Among other New England states, Massachusetts was No. 10 overall in the WalletHub list, Vermont was No. 37, New Hampshire was No. 38, Rhode Island was No. 48 and Connecticut was No. 49.
Growing number of resources
FILE PHOTO / TIM GREENWAYNancy Strojny, SCORE Maine Assistant District Director
On Maine's low ranking for business resources, SCORE Maine Assistant District Director Nancy Strojny said, "That is changing significantly, with higher education assets like the Roux Institute investing in Maine."
Strojny, a longtime mentor to startups including Flowfold and the Holy Donut and a 2017 Mainebiz Woman to Watch honoree, added that "banks are lending to qualified applicants, and Maine Technology Institute offers grants, loans, equity investments and services to support Maine's innovation technology."
Strojny also pointed to Maine's plethora of business support organizations providing advice, technical assistance and access to resources. Besides SCORE, she mentioned Small Business Development Centers, the CEI Women's Business Center, the Maine Center for Entrepreneurs and the Maine Procurement Technical Assistance Center (a statewide program hosted by the Eastern Maine Development Corp.).
"Whether you are starting or growing a business or have a new idea, product or process, these organizations can help," she said.
Resources in central Maine include Waterville's Bricks Coworking and Innovation Space and Tortoise Labs, which in the past four years has helped around 50 entrepreneurs turn their business ideas into reality by "teaching them how to build things people want," owner Nick Rimsa recently told Mainebiz. He owns Tortoise Labs with Brendan Barr.