Katahdin Region towns form rare comprehensive plan partnership
Posted on February 8, 2021 | News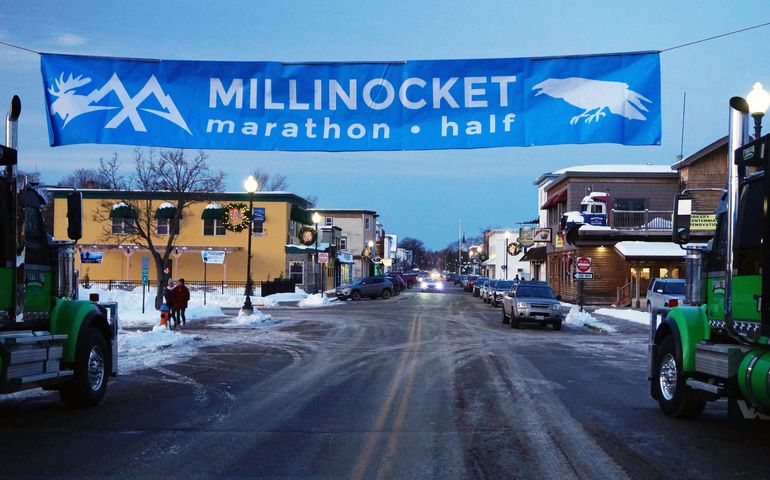 A comprehensive plan that allows the towns of East Millinocket, Medway and Millinocket to collaborate more efficiently on economic development has been approved by the state Department of Agriculture, Conservation and Forestry.
The Katahdin Region plan, at 255 pages, aims to create a collaboration that will help boost economic development in the region decimated in the last decade by two major mill closings, the Eastern Maine Development Corp., which helped develop the plan, said in a news release.
Collaborating regionally allows for cost efficiencies and more support of shared goals and strategies for the three Penobscot County towns, EMDC said.
The multijurisdictional 10-year plan, as opposed to the more common individual town or city plan, is the first in the state in nearly a decade to include more than one municipality, Tom Miragliuolo, a review coordinator at DACF, said.
"In the state we've always encouraged them, but we don't see them, they're rare," Miragliuolo told Mainebiz. The other two multi-jurisdictional plans were in Perry and Pembrook, in Washington County, in 2010, and Mapleton, Castle Hill and Chapman, in Aroostook County, in 2012.
The plan surveys existing and potential resources, analyzes needs and develops policy proposals to address local problems. It also sets up a structure to adopt and implement the policies in the plan, and to monitor them.
Specifically, the plan addresses 12 areas: historic and archeological resources; water resources; natural resources; agriculture and forestry; population and demographics; economy; housing; recreation and tourism; transportation; public facilities and services; fiscal capacity and capital investment; current and future land use.
Roots in Katahdin Gazeteer
The plan has its roots the Katahdin Gazeteer effort. The "visioning" initiative to determine what residents, businesses and others in the area wanted for its future produced the Gazeteer, which outlined goals that included making the Katahdin region "the premier four-season outdoor destination in New England." Other goals were supporting and attracting people of all ages, cultivating jobs and a new regional economy, growing the next wave of forest manufacturing and "future-proofing" the region.
The plan says that, with the new comprehensive plan, "regional collaboration will continue to assure that the visioning continues, that projects are supported, and that efforts result in revitalization of the region."
Much of the plan looks at strategies to grow from the historical regional identity enmeshed with the forest industry. The plan sets up a review board made up of government officials from each town to review the plan on an annual basis. It also calls for future collaboration with nearby towns Woodville, Grindstone, Mattawamkeag, Winn, Chester and Lincoln.
"Whether through the absence of operational lumber mills and paper manufacturers or through workforce or supply chain businesses, the recent downturn of this region's major industry has greatly affected the region," the plan says. "Efforts to revitalize paper and pulp mills have remained largely unsuccessful and measures to rebuild economic vitality are central to the region's future."
Collaboration among the three towns on the Katahdin Region, including input from across the region, was a critical part of bringing the plan to fruition, the release said. Collaboration includes 14 nonprofit and community-based organization, 31 local goals identified by the three towns; and 60 local policies identified. EMDC community planner Anna Stockman and others worked to put it together, resulting in the 255-page outline for the region's future.
The towns have already taken major steps to recover from the mill closings, finding new ways to leverage the sites that formed the area's economy for more than a century. Both Millinocket and East Millinocket are developing the former Great Northern Paper sites into industrial parks, and a biocarbon processing plant, part of the forest industry's next generation, announced last week it's locating at the East Millinocket site.
The greater region, as far north as Patten and Mount Chase and including Island Falls, in Aroostook County, is also strategizing other economic development initiatives, with support from EMDC. The four-season outdoor recreation appeal is also being marketed, including the region's proximity to Baxter State Park, home to Mount Katahdin, and the Katahdin Woods & Waters National Monument, which was established in 2016.
For several years the Millinocket Marathon has been a "shoulder season" economic driver, a collaborative effort by area towns that has generated an estimated $1 million since 2015.
'A ton of work'
The plan comprised "a ton of work," said Jane Danforth, project director for Thrive Penobscot, one of many community members who provided input, EMDC said. "It was exciting to be involved and see it come together." Danforth's background of working on regional transportation initiatives was a valuable addition to the transportation chapter of the plan, EMDC said.
Lee Umphrey, EMDC president and CEO said that the plan is an example of the organization "working with several communities to promote a collective effort to reach common goals."
He said it also reinforces EMDC's renewed endeavor, led by Stockman, to assist communities in establishing goals while accessing and analyzing data to create outcome-based plans."
With the 1988 Comprehensive Planning and Land Use Act, Maine towns and cities were required to submit a comprehensive plan to the state for review every 10 years. While they are no longer required, Miragliuolo said that they come in handy if a town's zoning requirements are challenged in court, and also for accessing state and federal grants.
Towns and cities also use the plans to guide planning and development decisions, for instance, to determine if a proposed subdivision is appropriate under the town's plan.
Miragliuolo said that with Maine's home rule-based local government, regional collaborations are rare, but could benefit many areas of the state that share resources or have other things in common.
Those behind the Katahdin plan hope that theirs serves as a model for that type of collaboration. "This comprehensive plan will … serve as a model for regional planning across the state," it says in its introduction.
Maine Municipal Planning Assistance Program
The state Department of Agriculture, Forestry and Conservation oversees the Municipal Planning Assistance Program.
The webpage for the program not only sets out statutes and process, but also has links to PDFs of comprehensive plans that have been reviewed under the program stemming back to 2008.