KRDB Distributes Funding with Penobscot County Commissioners
Posted on November 18, 2020 | Success Stories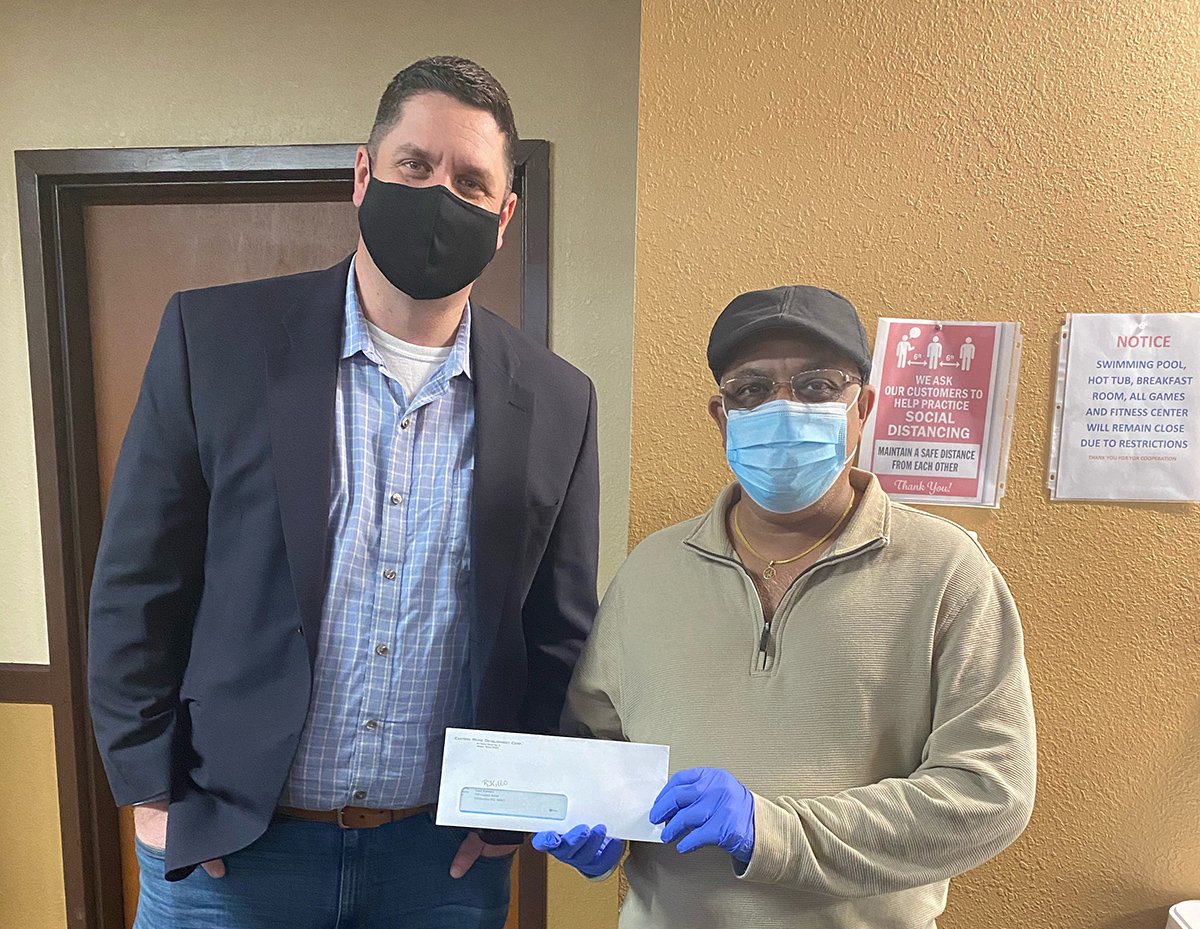 KATAHDIN REGION – Since he began his job almost two years ago Katahdin Region Development Board (KRDB) Executive Director Mike Elliott has attended countless meetings, shaken hundreds of hands and introduced himself to numerous business leaders, owners and entrepreneurs.
Those efforts are now paying off as Elliott is using those relationships to get COVID-19 relief grant funds for Katahdin region businesses. Elliott and Penobscot County Commissioner Laura Sanborn delivered checks to 10 Katahdin region businesses totaling $550,000 last week.
The money is part of the federal grants the state received as part of the CARES Act. Elliott said the state got $200 million in grants for small businesses and non-profits. That money became part of the Maine Economic Recovery Grant Program that was distributed locally by Eastern Maine Development Corp. (EMDC).
Elliott said when he learned of the grant program he used the network he'd built to get the word out to local businesses and encouraged them to apply for the help. The money can be used to cover losses experienced during the pandemic and it is a grant, Elliott stressed so no need to pay back.
"This doesn't need to be paid back," Elliott said, "they can use to pay employees, rent or other losses they haven't been able to recoup."
He said there is a "phase II" to the grant program and to help with the application process (as feedback indicated it could be daunting to some) he partnered with Katahdin Area Chamber of Commerce Director Peter Jamieson to host a "lunch and learn" that explained the program and gave insight on the application process.
Elliott said about 20-25 businesses were represented at the lunch and learn and as a result "we've got a slew of new businesses that applied or know they qualify."
He said he's pretty gratified to be able to use the partnerships he and the KRDB have developed to "help people get the information they need to make connections and get help as needed. It's all about partnerships."
Elliott's position is funded by the Penobscot County Commissioners and he said he was glad Sanborn was able to deliver the checks with him and meet the business owners.
"The county commissioners have been supportive of me so it was great for local businesses to see the partnerships we've made at work," Elliott said.
He said a second round of checks will be awarded soon, in fact he hopes to hear about grant recipients this week.
Elliott said he knows the local business community has been through the most difficult times they've ever experienced this year and he's spent a lot of time just listening and "being a sounding board," so being able to actually give them a check that provides financial, tangible relief has been extremely gratifying.
"What businesses have been through is heart wrenching," Elliott said, "to be able to help businesses and see them holding that check is rewarding."
Elliott said he doesn't know if more pandemic grant money will come to the state but if it does he wants local business to reach out if they need help as difficult as it may be.
He said there is a lot of pride in the region, a quality that serves the people and the businesses well but it can also keep business owners from reaching out when they need help. Elliott said he knows there are businesses who need the help but didn't apply because it's hard to take that first step. He wants them to know that the grant money available is not a "hand out" it's about recognizing the importance of the small business community and working to help them through a difficult time.
"It's not a handout it's recognition of the fact that you are a vital cog in the engine that drives our economy," Elliott said. "We need each other more than ever these days."
For more information on the KRDB or how Elliott can help check out the organization's Facebook page at Katahdin Region Development Board or contact Elliott at 723-1862.
Katahdin Times