Machias landmark may be turned into brewery, restaurant
Posted on April 23, 2021 | News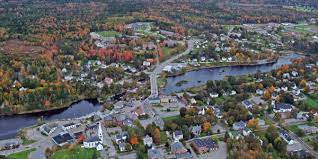 "We want to honor the history of this property while making good use of it as an economic engine for the region," says Kathryn Toppan, one half of the husband wife team that is looking to transform a historic landmark in Machias into a successful business. The Clark Perry House — built in 1868 at 101 Court Street — may soon be a place to stop and have a craft beer or a cocktail and partake in a meal made from local produce.
Toppan and her husband Shawn Lent are preparing for a public meeting scheduled for Thursday, April 29, at 6 p.m. at the Machias Tele Business Center, where they hope to garner town support for a Community Development Block Grant (CDBG) of $180,000 to repurpose the historic location into Bad Little Brewing Company. "My husband and I realized in July 2019 that we wanted to open a brewery and restaurant in Machias," says Toppan. "That was the first full summer we spent at our camp in Whiting, and the only things we missed about Portland were all the food and drink options. We were inspired by Machias revitalization efforts, and we thought this type of business would help galvanize interest in the area and give locals more options, too."
Toppan and Lent have been teaching in the Portland area for a combined 30 years and have two daughters. They are passionate and committed, ultimately selling their home in Portland, teaching remotely and living at their camp while pursuing the property. Because of delays in finalizing the transaction the couple needed to purchase an adjacent property in Machias, and with schools reopening in Portland, the couple now stays with family closer to work during the week and spends weekends in Machias.
Toppan and her husband will use the CDBG funds for kitchen, taproom and brewing equipment and some working capital. "The grant funds less than 20% of the total project cost," says Toppan. Four other organizations have already committed to the project — Northern Maine Development Commission, Eastern Maine Development Corporation, Sunrise County Economic Council and Coastal Enterprises Inc. — and the state's historic preservation officer has approved the project. "My husband and I are also investing 20% of our own money to make this happen," Toppan says.
The project's plans call for complete restoration of the home's exterior while leaving its interior as a future project. The brewery, taproom, kitchen, restaurant and a future retail shop will utilize the building's ells, extending from the main house, the barn and an area that once was the stableman's quarters. The side driveway will be reconfigured for staff parking, and the side yard will become a gravel parking lot large enough to accommodate 25 cars.
Bad Little Brewing will feature a 3.5 tank brew house initially offering two craft beers, then expanded offerings throughout the fall and winter. The food menu will feature locally sourced, organic and scratch made items. "Our menu will be on the smaller side and will be available in both the taproom and the restaurant upstairs in the barn, where the kitchen will also be located," says Toppan. "Shawn and I have worked in restaurants before and are hiring professionals to fill in the gaps. We know great food, drink and atmosphere very well, and we are bringing those high standards to Bad Little Brewing."
If the business is approved for the grant, residents of Machias would guarantee the amount should the business fail to meet the grant's primary requirement — to create jobs. "Every $30,000 increment represents one full-time or full-time equivalent position, so we must employ enough people to fill six positions," says Toppan. "We need twice that number to even operate, so we know that we will meet that requirement. We also plan to partner with Washington County Community College's culinary arts program to be an apprentice site for students."
Toppan believes there is no risk to the town because grant monies are not dispersed until those required hires are made. "We are also signing an agreement with the town for our equipment and are personally guaranteeing the grant money," says Toppan.

A prominent location for Machias
Clark D. Perry was a successful businessman in the lumber and shipping industries. He also had a passion for horses, and the entire property served as a makeshift horse track to fuel this passion. His home, an Italianate design Victorian, has been on the National Register of Historic Places since 1979 and is one of the largest homes in Machias, with 15 rooms, 3,200 square feet and a two story carriage barn all sitting on 1.25 acres.
The home was last occupied by the Beehive Design Collective, known for its stewardship of historic buildings and global messaging using art. The property has been in foreclosure since early 2021, and Toppan is hopeful they will be notified that they own the property outright prior to the public meeting.
Toppan believes the location is a good one for business. "The last daily traffic count the state conducted for this section of Court Street was in 2015, when 3,120 cars a day were reported," says Toppan. "This is a well traveled road for locals, and it is only one block up from Route 1. We feel confident that locals will know where we are and visitors to the region will find us, particularly because we will have an online presence and also will be on the Maine Beer Trail."

Public reaction appears supportive
Discussions on social media appear mainly positive, along with those expressing cautious optimism and some who flat out don't want it. Toppan hopes the public meeting will provide residents and town officers with answers to their questions about the project.
"Though there have been a number of negative comments about our business and the grant in particular, public support has been overwhelmingly positive," says Toppan. "In fact, it was this public support that kept us going through the trials and tribulations of the process. We know that the bulk of area residents are excited about this type of business coming to the region, but we hope that others who are more skeptical will give us a chance and understand that we are genuinely committed to community, to excellent food and drink and to building something that everyone can benefit from."
Toppan and her husband believe this type of business will provide many benefits to the area, similar to what is happening in neighboring towns. "We have the good fortune of having two other breweries in the region that will help beer tourists justify the trip: Lubec Brewing Company and the new Horn Run Brewing opening in Eastport. We hope to collaborate with them and other eastern Maine and Downeast breweries to sponsor a beer festival and find other ways to promote economic growth in the region."