Maine community colleges start class with increased workforce focus
Posted on August 26, 2019 | Success Stories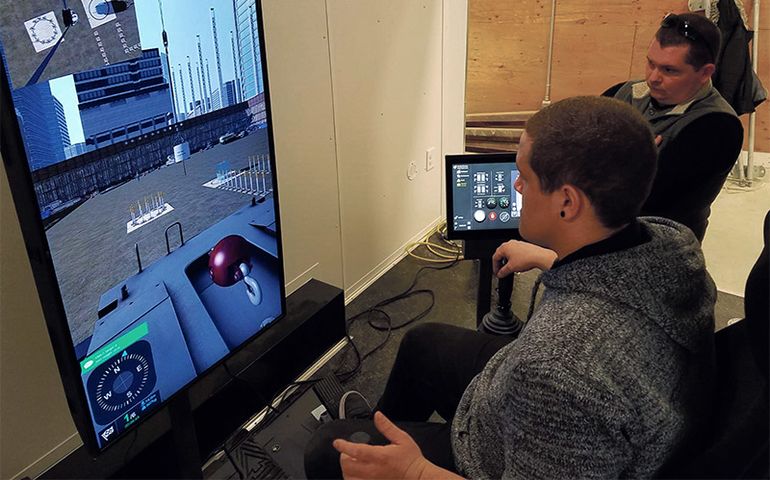 By Staff, Mainebiz • August 26, 2019
Maine's community colleges open today and next week with new academic degree and certificate programs, new short-term job training opportunities and refurbished and new facilities, much of it aimed at meeting the state's workforce needs.
New programs address the combined impact of an aging workforce, low unemployment and critical workforce shortages across multiple sectors in Maine, according to a news release from the Maine Community College System.
"We are constantly expanding opportunities for our students and making sure we help them get the best start possible, from short-term training to two-year programs including options to transfer seamlessly to four-year programs," said MCCS President David Daigler in the release.
"While many of our students will be starting college coursework in the next few weeks, others have been working hard this summer at getting the training and skills they need to participate in this new, more technical economy," said Daigler, noting the year-round nature of lifelong learning at the system. "We want to give our students the best shot at a bright future."
Maine's community colleges include Central Maine Community College in Auburn, Eastern Maine Community College in Bangor, Northern Maine Community College in Presque Isle and Southern Maine Community College in South Portland, all opening today; Kennebec Valley Community College in Fairfield and York County Community College in Wells, both open Tuesday, Sept. 3. Washington County Community College in Machias opens Wednesday, Sept. 4.
New this year
New programs, facilities and more span the system's seven colleges.
CMCC is offering three new degree options: plumbing and heating, HVAC/R and facilities maintenance and management. YCCC is launching certificate programs in additive manufacturing, community mental health, and hospitality and tourism management.
KVCC's sustainable construction program has added new courses, certifications, and workshops that offer short- and longer-term training in skills, including timber frame joinery and new building and material technologies.
WCCC is offering a new associate degree in electromechanical instrumentation technology that builds on the college's residential and commercial electricity program.
Dual enrollment students at United Technology Center, the regional career and technical high school in Bangor, can earn a new one-year certificate in small business from EMCC before they graduate high school. The program allows graduates to either get an associate degree in business management at EMCC in one year, or go to another institution with a year of college credits.
EMCC and CMCC launched new badging initiatives so students can gain new and specialized job skills — from power tool safety to information literacy — quickly and affordably.
NMCC has a new nursing simulation center and a newly remodeled gymnasium, and is also adding a pneumatic robotic arm in the school's precision machining program, a virtual anatomy table in the life science courses, a cloud-based conferencing system for the emergency medical services program and a hydraulic training simulator with electronics for the diesel hydraulics program.
CMCC has new and expanded athletic fields, with lights and a synthetic surface. The complex includes NCAA-sized competition fields for baseball, softball and soccer.
CMCC also has opened a 1,600-square-foot high-tech esports arena for its new esports competitive team. The competitive video gaming facility has state-of-the-art Alienware Area-51 Threadrippers, five console stations with Xbox One, PS4 Pro, and Nintendo Switch, and a Twitch broadcast booth for live streaming matches. A screen has been installed in the nearby gymnasium for overflow crowds watching tournaments. CMCC is part of the National Association of Collegiate eSports, and is also offering a new esports management degree program this year. NMCC is also starting an esports team this fall.
SMCC's Global Studies Center is offering its first study-abroad opportunity with a trip to Cuba during the spring semester, to explore Cuba through the lens of arts and science. SMCC is also offering a culinary/hospitality course that includes a travel component to Barcelona.
SMCC's cybersecurity program was recently designated as a National Center of Academic Excellence in Cyber Defense Education by the federal National Security Agency and the Department of Homeland Security.
Special funding for program development
Many of the new programs this year were launched with special funding from both the state and private sources.
State funding in 2017 for workforce development was used to build or expand 10 degree and certificate programs in the trades and technologies. MCCS also created new regional centers for skills training in manufacturing, commercial driving and nursing.
A $3.6 million grant from the Harold Alfond Foundation, announced in December, funded 11 new workforce training programs that will be starting in the upcoming weeks. The programs include medical assisting at EMCC and SMCC; welding programs at KVCC and SMCC; and a computer support program at CMCC.
The news release said demand for the new programs is high — for instance, there were 235 applications for 40 spots in EMCC's new medical assisting program.