Mapping COVID-19 in our communities
Posted on June 15, 2020 | News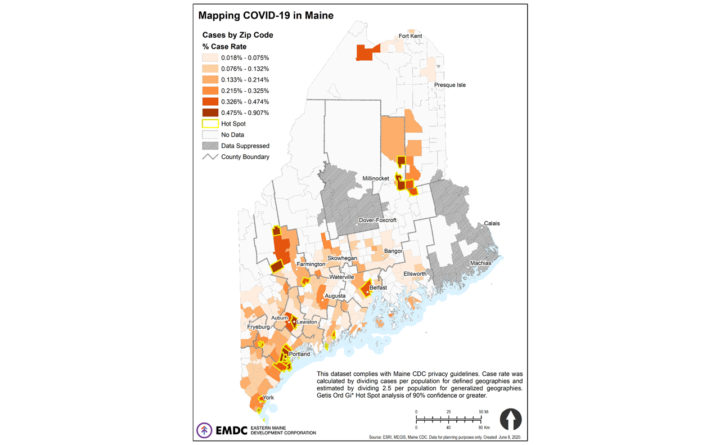 Bangor Daily News, by William Harper
Maine CDC recently released data describing COVID-19 infections across the state. As we negotiate this health crisis, understanding data and the implications for our region is essential to ensure an effective response. We have some observations and takeaways.
There are obvious clusters in cities and towns with large populations. That observation shouldn't surprise anybody, especially considering the fact that much of Maine's population is concentrated in the south and coast. What is more compelling is a comparison of the total number of cases to the overall population. The below map shows cases per population, where a higher value represents a high incidence of COVID-19. Again, some places are not surprising… however, there are a few that really stand out. Medway*, Mattawamkeag*, and Stacyville* in northern Penobscot County; Saint Francis in Aroostook County; and Stratton*, Weld*, and Phillips in Franklin County. These are all rural areas with small populations (0.42% of state population), making the relatively high number of cases notable (between 1.0% and 1.9% of total cases).
A few important things to know about this data:
These reflect cumulative cases, from the first reported case until June 2;
Cases are aggregated into zip code geographies which are often problematic and inconsistent;
Privacy concerns require that, in places where the population or reported cases are too few, data either has to be suppressed or generalized;
Low population counts reduce statistical reliability of any subsequent analysis.
Considering what we can learn from the data and its inherent limitations, this map clearly illustrates that Maine's rural spaces face similar risk from COVID-19 as more urban and suburban spaces. Being clear about how that risk works and where interventions occur is a lesson for this and other statewide issues.
* These locations are verified hotspots identified using case per population rates in a Getis-Ord Gi* analysis with applied FDR.
For more information on how EMDC can help your community with planning, development and grants management, contact us at community@emdc.org. For a larger version of this map, visit emdc.org/community.
Eastern Maine Development Corporation is a non-profit that fosters public-private partnerships and leverages resources to help communities, businesses and individuals reach long-term goals and achieve prosperity.