MDI entrepreneur with cleaning company sees opportunity in Airbnb
Posted on August 9, 2019 | Success Stories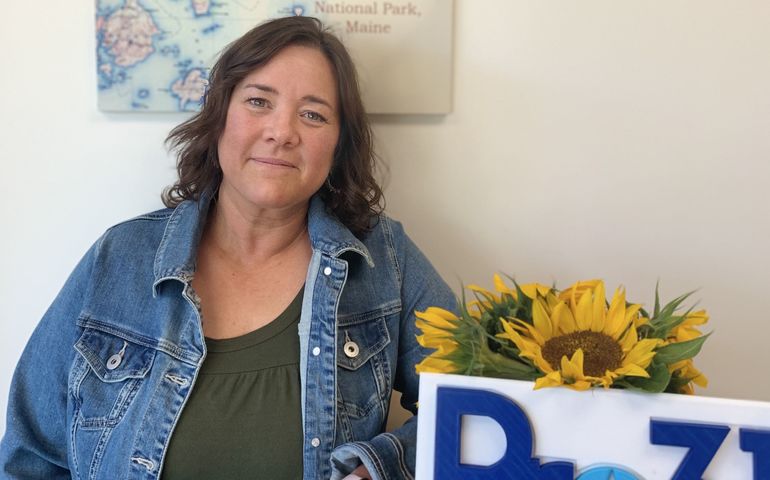 By Laurie Schreiber, Mainebiz • August 9, 2019
For years, Mindy Tracey was cleaning seasonal homes and lodgings in the Mount Desert Island area.
She was one of many self-employed cleaners, looking to make a little extra money for her family during the peak season, when there's high demand from summer residents, vacation rental owners and hotels.
"I kept hearing horror stories about, unfortunately, bad situations, whether it was cleaners who didn't show up or who didn't do what they said they would," she said recently. "People kept saying, 'Boy, we need a real cleaning company, someone who's more reliable. And I kept thinking, 'What if?'"
So in 2017, Tracey started Pro31 Cleaning Solutions at the Union River Center for Innovation in Ellsworth. A year later, the company had become big enough to move into a larger headquarters in Southwest Harbor. Today she has over 30 employees and has added services like a full-service laundry, dry cleaning, property management and retail store, for commercial, residential, construction and turnover/rental cleanings.
Revenues are up almost 60% over last year. With nearly 100 residential and commercial accounts now, she has a waiting list. The company is quickly outgrowing its new quarters. Marketing consists mainly of signage on the building and by the road, print ads in the Ellsworth American, radio ads on Star 99.7 in Ellsworth, and handing out brochures.
"A lot of people find us by googling 'cleaning service Bar Harbor,'" she said. "But it's mostly word of mouth."
Most clients are on Mount Desert Island, but they also extend to offshore islands and as far as Bucksport to the west and Gouldsboro to the east. Vacation rentals make up 60% of her accounts, and summer residences and commercial work 40%.
Opportunities are seemingly endless, particularly given the surge of vacation rentals.
"There are so many houses on MDI that people are using like a hotel," she said. "Someone needs to clean those. People are having such a hard time finding cleaners, that the demand is huge."
Serving employees
Her business plan includes serving not only clients but employees.
"One thing I noticed, when I started talking with some of the people who worked at the hotels a long time, was that they weren't getting paid very much," she said. "I have employees who previously worked at the hotels and made $12 per hour. That bothered me."
Tracey pays $13 to $17 per hour.
"It's not about me making a ton of money," she said. "It's about providing a service for a huge hospitality industry here as well as helping out locals to have a better job. As long as I can keep the company afloat, we're okay."
She also aims to fill "a hole in the workforce" that's caused by people ages 30 to 50 seeking jobs out of the state. That means many potential employees are age 15 to 30, or 50-plus years old. Her model includes pairing younger with older workers; that's made for an inspiring combination of wisdom and energy in the workplace, she said.
She recruits employees mainly by word of mouth and Facebook, but recently booked radio time for a help wanted ad and stopped by workforce development organizations like Fedcap.
Transportation is tricky
Initially, Tracey didn't realize how much work was involved in starting a company.
"Paperwork. Communication with clients. The time that's involved that's not billable, like meeting with clients, walking through their houses, understanding their needs, putting those needs on paper for the employees," she cited.
Then there's the task of recruiting employees, conducting background checks, training and follow-up on their work.
Transportation has proven a major consideration.
"A large portion of my crew either doesn't drive or doesn't have a vehicle," she said. "I have a couple of vehicles, given to me by generous clients, that we use to pick people up and transport them so they can work. A lot of my employees carpool. We spend time figuring out who's going to transport whom. Without transportation, it's pretty hard to make a decent living."
The situation is made trickier by the shortage of affordable housing on MDI, where the majority of the work is located. Some of Tracey's employees live as far as an hour away, in Harrington and Machias.
"I have employees who would live on MDI if they could find affordable housing," she noted. "I have an eight-passenger vehicle given to me last year by very kind clients and I'm looking to see if we need to shuttle people to work. Communities like Harrington need the jobs and MDI needs the workers."
Expanding year-round
Because the bulk of the work is seasonal, Tracey finds she has to hit the ground running when June rolls around, with a manager and crew leaders in place and her crew trained and ready to go.
"All seasonal companies have this issue, but it blows my mind," she said. "That's probably the hardest part, being raring to go all of a sudden."
As a result, she's working to build up a year-round schedule. That includes clients like offices and janitorial work for schools.
"We clean some businesses year-round," she said. "That helps a lot. We've been throwing around the idea of processing laundry for hospitals and dentist offices. If we can build the year-round business, the people I hire can stay on all year. That contributes back into the local economy and makes for a more stable community, too."