Mud, snow and sleet — and economic impact — with Millinocket Marathon
Posted on December 9, 2019 | Katahdin Success Stories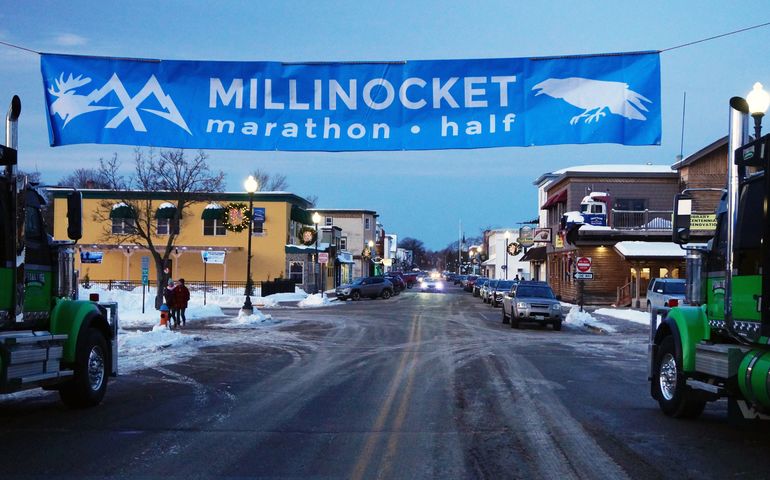 The Millinocket Marathon started out as an idea by a guy who lived halfway across the state in 2015. After reading an article about the town's dire economic circumstances, Gary Allen of Cranberry Isles, decided a winter morning marathon was just the thing to show some support.
The race had its fifth running Saturday morning. "And if you think ideas don't matter, $1 million still does in this small town," Allen told dozens gathered for a news conference Friday.
That's $1 million generated in five years not only for the town of 4,200, but for the Katahdin region of western Penobscot County, organizers said.
The idea behind the marathon is a simple one — there is no entrance fee, just show up, run and spend some money in the community. Allen, of Crow Athletics, is also director of the Mount Desert Island Marathon, which is in October.
The first year, 52 runners ran the 26.2-mile route that loops along the Golden Road, the region's logging artery.
This year, 2,381 runners from 41 states, six countries and four Canadian provinces were registered for the marathon and half marathon.
The race, just like in 2015, has no prize money or prizes of any sort, no finisher's medals, no free T-shirts, no gift bag full of free running swag.
It does have this though: its own beer, Sea to Summit, by Baxter Brewing Co.; former Red Sox pitcher Bronson Arroyo's band playing at the Elks Club party the night before; its own song, by Nashville songwriter Jenn Schott; and every motel room in town filled up.
However, the race is still the no-frills, small-organization event that Allen was aiming for five races ago. "The vision was to keep it really simple, there wasn't a lot of infrastructure behind it," he said. "There's no money involved, there's no fame involved."
Runners are just asked to "pay it forward in the community," he said. "I'm a firm believer that one person can make a difference in a community."
While there are no precise calculations of money generated, race organizers have worked with the Maine Office of Tourism and the Maine Sports Commission to estimate the event's economic impact. Allen said the impact has grown $200,000 to $300,000 a year, with an overall total of $1 million since it began.
Allan said the race has a ripple effect, and Millinocket Town Council Chairman Cody McEwen said those ripples can be felt not only in town, but throughout the region "all the way up to Mount Chase."
"It's very important to the economy of Millinocket," he said at the news conference. It gets people to the region, spending money, in the shoulder season between the summer and early fall recreation season and the winter snowmobile one.
"This allows businesses to open their doors and let people be supportive in a time when that wasn't happening," he said.
Things have caught on enough that Baxter Brewing collaborated with race organizers this year for the special beer, which is shared with the Mount Desert Island Marathon. Sea to Summit beer has elements of spruce tips and blueberry, symbolic of the regions it was created for, said Adam Platz, founder of Auburn-based Baxter Brewing.
While he's from Auburn, Platz said that the Katahdin Region has always held a special place in his heart, and it just made sense to "pool our energy, pool our resources for one common cause."
Baxter Brewing produced 20,000 cans of the beer, which was sold during the MDI Marathon and October and also in the Katahdin region during the weekend's event. A portion of proceeds from sales go to Friends of Katahdin Woods and Waters, and a percentage of the MDI sales went to Friends of Acadia.
Supporting small towns
The race, from the beginning, attracted runners from outside the region.
Sarah Mulcahy, a U.S. Olympic Trials qualifier, said Allen called her up in 2015 and asked her if she wanted to run a marathon in Millinocket.
"I grew up in a small town and I believe in supporting small towns," said Mulcahy, a native of Eagle Lake who now lives in Fort Kent.
The first race was small and unorganized. "It was like a flash mob," she said. Six of the 52 who started finished. "We came, we had fun and spent money," she said.
Mulcahy not only ran in the inaugural race, but in every race since, including while pregnant and, in 2017, while recovering from an injury that she was told meant she may never run again. She proved them wrong, "And the Millinocket Marathon was the first marathon I ran" after the injury. She set a personal best.
Her goal is to have fun. "I've never come here and not had fun," she said. "This is the most fun race I've ever to." While at many racers, runners are looking at what they can get out of it, "Not here, it's how can I support the community?"
Songwriter Jenn Schott, a Kansas native who now lives in Nashville, wrote a song about the marathon, which she sang at Friday's press conference.
She'd been falling a little bit more in love with Maine every year, and was thinking of someday living her. But she had to see what it was like in winter. As a runner, "I thought, it's a long shot, but I wonder if I could find a race to run in winter," she said.
She found one, and is running the marathon for the third time this year. "I was so intrigued by the giving nature of the race," she said. "It wasn't for what you could get, it wasn't about the T-shirt and the medal, but it was about what you can do for the community.
And then I came in 2017 and was just very moved by the welcoming nature of the community and the giving spirit of the runners, that I signed up and came back again last year," she said. This weekend was her third Millinocket marathon.
Allen is listed as a co-writer on Schott's song — she uses some of his frequent phrases, like "start a ripple" and "give more than you get."
Also from out of town was former Major League Baseball pitcher Bronson Arroyo and the Bronson Arroyo Band. Arroyo, who later played for the Cincinnati Reds, was lured to town by the band's drummer, Dave Becknell, of Florence, Ky.
Becknell "fell in love with the town" on a hiking trip to Katahdin years ago, and has come back many times. "I fell in love with the town," he said. Those who live in the region are not only gracious, but "very hardy, they're survivors."
'This is the why'
But the race is also important to people in the region. Mike Thurlow, 64, a logger from Lee, for the third year ran the half-marathon carrying a 25-pound chainsaw. Last year he raised $8.000 for Make-A-Wish. This year he had a team running with chainsaws, including his son, who ran the marathon.
The money he raised last year helped a Millinocket girl, Abby, and her family meet Abby's favorite "person," Barney the purple dinosaur, on a trip to Universal Studios. Abby, who has autism, is helped by music therapy, and tremendously helped by Barney and his music.
Thurlow said that people thing he's crazy for running with a chainsaw, "But this is the why," he said. He urged others to "pick up your chainsaw and run with it."
The race also raises money for nonprofit Our Katahdin and the Friends of the Millinocket Memorial Library. This year, $15,395 was raised for Our Katahdin, and $13,391 for the library.
Mulcahy won the women's division of Saturday's race — her fourth win and good enough for fourth overall in the race. Andrew Schroeder, of Madison, Wisc., whose wife is a Millinocket native, won the men's division. Gabe Coffey and Flori Davis, both of Bangor, won the half marathon.