New CNAs boost health care industry in Katahdin Region
Posted on May 15, 2019 | News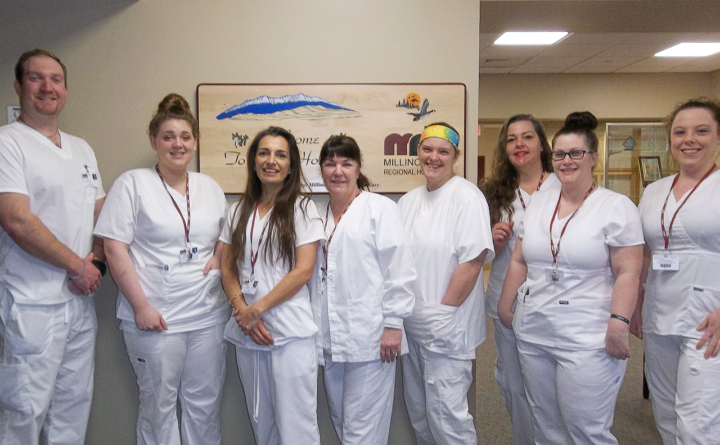 Eastern Maine Development Corporation (EMDC) and Katahdin Region partners are opening promising career pathways for newly trained health care workers, and expanding the pool of in-demand skilled employees for this rapidly growing sector of Maine's economy.
Working in collaboration with the Katahdin Higher Education Center, EMDC is connecting new Certified Nursing Assistants (CNAs) with potential employers and ensuring a smooth transition from training to employment.
The CNAs successfully completed customized training offered by Eastern Maine Community College, which partnered with EMDC and Maine Quality Centers to foster relationships with local employers in need of skilled workers. Funding was leveraged to partially offset the training costs.
EMDC is enthusiastically assisting several recent graduates – including Nichole, Lyndsay, Jessica, Rachel and Kimberly – to meet their career objectives in the Katahdin Region and fulfill their wish to care for the sick, elderly, and individuals with disabilities.
Three of the CNAs are hoping to work at Katahdin Health Care in Millinocket after completing their clinical rotations at the long-term care facility. Nichole was hired by Katahdin Health Care as a Unit Aid after completion of her internship, and hopes to be promoted to CNA now that she has received her license. Lyndsay worked in the cafeteria at Eastern Maine Medical Center before realizing she wanted to pursue a career as a CNA. After being laid off from her job in retail, Jessica recognized her passion for serving the elderly and is eager to work at the home care and hospice facility.
Rachel is currently working in the Housekeeping Department at Penobscot Valley Hospital in Lincoln, but looks forward to a career move as a CNA, which would mean higher wages and stable hours for the mother of three. Kimberly is currently employed at Sweet Seniors in Millinocket, but wants to offset her part-time hours by working as a CNA at another long-term care center in the area.
Eastern Maine Development Corporation has a history of initiating and supporting industry-specific collaborations of this kind. The non-profit organization identifies growing industries in Maine, meets with business owners in those industries, and partners with educational institutions to provide training and certifications. EMDC also provides individualized services, including career assessment and exploration, resume and interview prep, job search assistance and financial support, to people who are looking to further their careers.
To learn more about EMDC's broad range of services for individuals and businesses, contact its Workforce Services team at workforce@emdc.org or (207) 561-4044. Additional information is available at www.emdc.org.