Northern Maine heats up with a forward-looking economic development plan
Posted on August 23, 2021 | Success Stories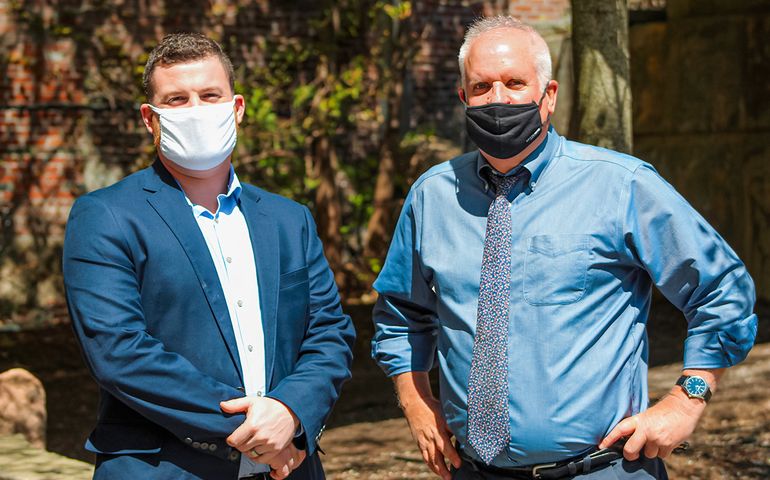 Northern Maine's long-term economic viability has always had a vulnerable side, with the ever-changing situation with logging and paper mills, but it took on new importance during the pandemic.
That's why the Eastern Maine Development Corp.'s recently released five-year plan has added meaning. EMDC defined the idea as "a vision and goals to support long-term economic prosperity across Penobscot, Piscataquis, Hancock, and Waldo counties."
The region was hard-hit by the pandemic, with what had been steady employment hitting the rocks. At the same time, the four counties have dealt with a steadily declining population. The aging population, combined with declining labor force participation, is expected to continue to trend downward in coming years, according to the five-year plan.
The four counties — Hancock, Penobscot, Piscataquis, Waldo — represent 262,750 people, which is 20% of the state's population. Maine is already considered an old state, with a median age of 44.7 years old, but the four counties' median is 47.1. The unemployment rate is also higher, at 5.8%, versus 4.7% for the state. The average annual wage is lower, at $43,291, compared to $48,115 statewide.
Yet there is room for optimism.
"The aging population was a key consideration, but not a driving factor in determining the project's need. This is a region of great resiliency and recovery as demonstrated by the collective efforts at the former paper mill sites in Bucksport, Lincoln, East Millinocket and Millinocket," says Lee Umphrey, president and CEO of the Eastern Maine Development Corp., which is based in Bangor.
"Also, because EMDC administers workforce development programs in nine counties, worker availability and readiness is always on — always kept warm on the stove top. By working with adult education programs, vocational schools, community colleges, private colleges and universities we keep the pipeline adaptable to meet the needs of businesses seeking workers. There are many challenges but by working together we find solutions," he adds.
Earlier this month, Eastern Maine Development Corp. received $350,000 to provide technical assistance for climate resiliency planning, growth strategies for second stage businesses and access to capital. The funding came through the Northern Border Regional Commission grant program.
Umphrey cites the importance of having a game plan for the region, and says there are already two major assets with a major upside, a Moosehead ski area in development and a business park with substantial capacity.
A Moosehead ski area in the works
Tourism is an important economic driver for the region. There are efforts underway to resurrect an old Moosehead-area ski area.
In April, the Finance Authority of Maine approved up to $135 million in conduit bond financing for development of a Moosehead Lake area ski resort, which it said could create up to 380 full- and part-time jobs.
Plans are to redevelop the mostly dormant ski area into a four-season resort that would include a hotel and restaurant, zip tour system, condos, a 200-slip marina and event center.
The developers, Provident Group-Moosehead Lake L3C, will use the money to finance acquisition, rehabilitation, design, construction and equipment for the ski resort in Big Moose Township, about 6 miles northwest of Greenville.
The development team comprises Provident Resources Group, of Baton Rouge, La., in partnership with Big Lake Development LLC and Yarmouth-based Treadwell Franklin Inc. The team is headed by Perry Williams, who lives in Louisiana and Spruce Head.
Since EMDC's initial U.S. Economic Development Administration revolving loan fund, which served as the catalyst for the Big Moose project, there has been rapidly growing support at the local, regional and state levels, Umphrey said.
"Part of this effort is to launch an Economic Growth Bonds Program to ensure meaningful and sustainable development in the Greenville community. A governing board of investors with local, regional stakeholders, including EMDC, will focus the project on keeping the Maine economy strong by engaging Maine designers, architects and builders," Umphrey said. "This will be a game changer for the Moosehead Lake region in northern Piscataquis County by creating 400 local jobs and boosting recreational tourism while becoming the economic engine in the heart of Maine."
Maine's largest business park
Umphrey, who is on the board of the Loring Development Authority, said there has been activity at the Loring industrial and business park. Loring Commerce Centre in Limestone is Maine's largest industrial park, geographically, at 8,700 acres. But, with just 32 tenants, it has a lot of capacity left. Its largest tenant is Defense Finance and Accounting Service, with 142,000 square feet.
"Loring, with 4,000 acres and tons of square feet of existing buildings, has bursting capacity for new businesses and construction," Umphrey says. "The most significant asset is a long airport runway and hangars. The best incentive for new businesses is Loring's location and access to resources while being part of a robust, redeveloped site of the future."
The Loring Air Force Base closed in 1994. Soon after the base closure, the Maine Congressional delegation, led by former U.S. Sen. George Mitchell, established two federal anchor tenants — Defense Finance and Accounting Service, which leases 142,000 square feet, and a U.S. Department of Labor Job Corps Center.
"This provides a solid framework to build around," says Umphrey, who was recently appointed to the board of the Loring Development Authority. "We are working on a business development strategy and sustainability plan that looks to prioritize the most promising and emerging business development opportunities. The direction from Gov. Janet Mills is to be bold, take advantage of the assets and make it happen."
Setting goals for economic growth
In its five-year plan, Eastern Maine Development Corp. outlined four pillars of future economic development:
Broadband: Expand and increase accessibility and affordability of broadband capacity, including creating a broadband committee, doing a regional needs assessment, and increasing and improving access.
Transportation: Improve and expand the transportation infrastructure, and support port and rail development.
Climate resilience: Foster methods to adapt to and mitigate the effects of climate change, including support for businesses that need to make changes, encouraging climate-friendly development and more.
Workforce and education: Develop, retain and attract talent. That includes increasing collaboration between educational institutions and business, improving digital literacy for businesses and individuals, and promoting and increasing regional assets to attract more workers.
In May, EMDC named Peter Jamieson as its Katahdin Region economic development director, replacing Michael Elliott, who stepped down in February.
Jamieson, who has been director of the Katahdin Chamber of Commerce for the past year and a half, will work on programs and development that catalyze economic growth in the eight towns that make up the EMDC's Katahdin Region, collaborating with local, state and federal partners. The position comes under the EMDC, but is part of a multiyear partnership funded and supported by the Penobscot County Commissioners. The role is overseen by the Katahdin Region Development Board, which was created for that purpose.
The five-year plan was the result of EMDC's collaboration with regional stakeholders, municipalities, counties, state departments and congressional and federal entities. Three months of public meetings, research and planning contributed to the creation of this plan, which the organization says will serve as a roadmap for regional economic development.
It's heavy on collaboration.
"The key to moving forward is to be prepared for anything and always work together. In eastern and northern Maine it's even more important to collaborate with like-minded community stakeholders and local entities. Establishing public private partnerships will bolster the best long-term economic recovery," says Umphrey.
He cites the pending influx of pandemic-related federal relief funds, which "makes this kind of effort especially important."
Umphrey says EMDC sees its role as "a community partner and convener" to help business, people and communities understand and get access to resources.
A good example of collaboration is in the Katahdin Region with the Penobscot County Commissioners funding an EMDC position for seven years to bring people and resources together under the auspices of the Katahdin Region Development Board, he says.
Hancock, Penobscot, Piscataquis and Waldo county data
The Four Counties population:
262,750, 20% of Maine's total population
Median age:
Maine: 44.7 Four Counties: 47.1
Unemployment rate:
Maine: 4.7% Four Counties: 5.8%
Average annual wage:
Maine: $48,115 Four Counties: $43,291
Source: U.S. Census, EMDC