Owners of Portland's Arcadia designworks expand to Millinocket
Posted on July 11, 2019 | Katahdin Success Stories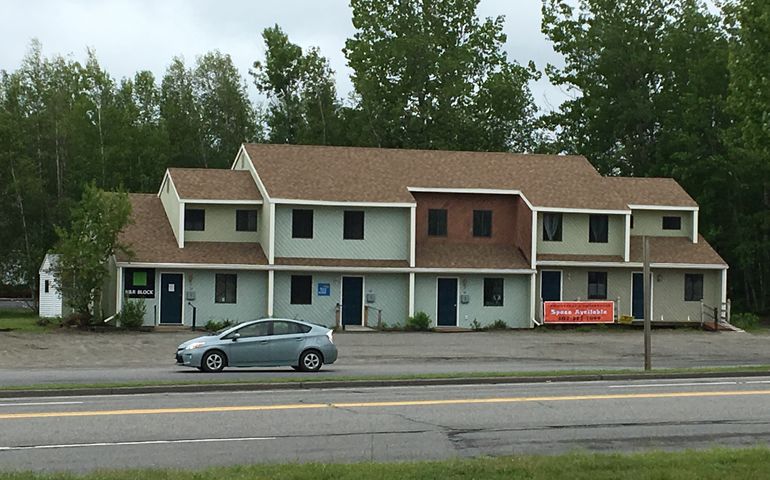 When Portland's Arcadia designworks drew plans for Millinocket public pool bath house more than a decade ago, it started a business connection with the town that has culminated in the coupld that owns the firm expanding to the Katahdin region.
There was already a personal connection — Arcadia principal Patric Santerre is from Millinocket and he and his wife and business partner, Celeste Bard, owned a vacation camp on an island there.
Arcadia also has designed rennovation of 230 Penobscot Ave. in Millinocket. The former department store, once a landmark on the town's main downtown street, is being renovated into coworking and retail space by nonprofit Our Katahdin.
And there's the $1.5 million renovation of the MIllinocket Public LIbrary, also an Arcadia design project.
With the amount of time Santerre and Bard were spending in Millinocket, the next step was an obvious one. Although the couple live and work on Prospect Street in Portland, they bought a building in Millinocket, more than three hours to the north, also as a live-work space.
"Between all these projects, it was like our home," said Santerre. "Celeste fell in love with the area, and we decided to buy a building."
They closed on the multi-use property at 26 Balsam Drive in October.
Finding a practical place to do business isn't new to the pair, who besides designing buildings also are product designers. A few years ago, they moved their Portland office off the peninsula and into the multi-family building on Prospect Street they live in.
Their multi-unit building in Millinocket has seven office or commercial units and one residential, and they are renovating it into flexible living/working space. Three of the units have tenants — H&R Block, Health Access Network and a residential tenant. Arcadia is using another unit, doing business by appointment only. The three remaining units are being prepared for lease, Bard said.
New tenants may also include retail, ideally an ice cream or coffee shop, she said.
The exterior of the 1986 building has a new coat of paint, they are adding decks and making the building ADA-accessible. Fiber optic cable will be also be added this summer. They're adding showers/kitchenettes to some units to create flexible live/work/vacation spaces, Bard said.
Local contracting professionals who have worked on the building include plumber Brett Rollins; Marcia Menario, interior painting; Tom Power, exterior painting; Gary Charette, carpentry; and Jenny and Mike Burnett, Katahdin Property Services.
Bard said the neighborhood is convenient for business as well as residential tenants. On the main road into town, it's next door to Stern Lumber, and within walking distance of two grocery stores, fast food and more.
Bard said she and Santerre are excited about living and working in the Katahdin region, and want to provide the same opportunity for others. "It's flexible live/work space," she said. "It has access to the outdoors … we think about how people work, and we want to talk with people coming into the region, people working from home."
They like the fact the building is an "old-time multi-use building," but are taking its evolution slowly.
"It's interesting architecturally," Bard said. "We're trying to understand the building from the inside out. Sometimes you think you know what you want to do, but you get in there and the building is trying to tell you something different and you have to respond."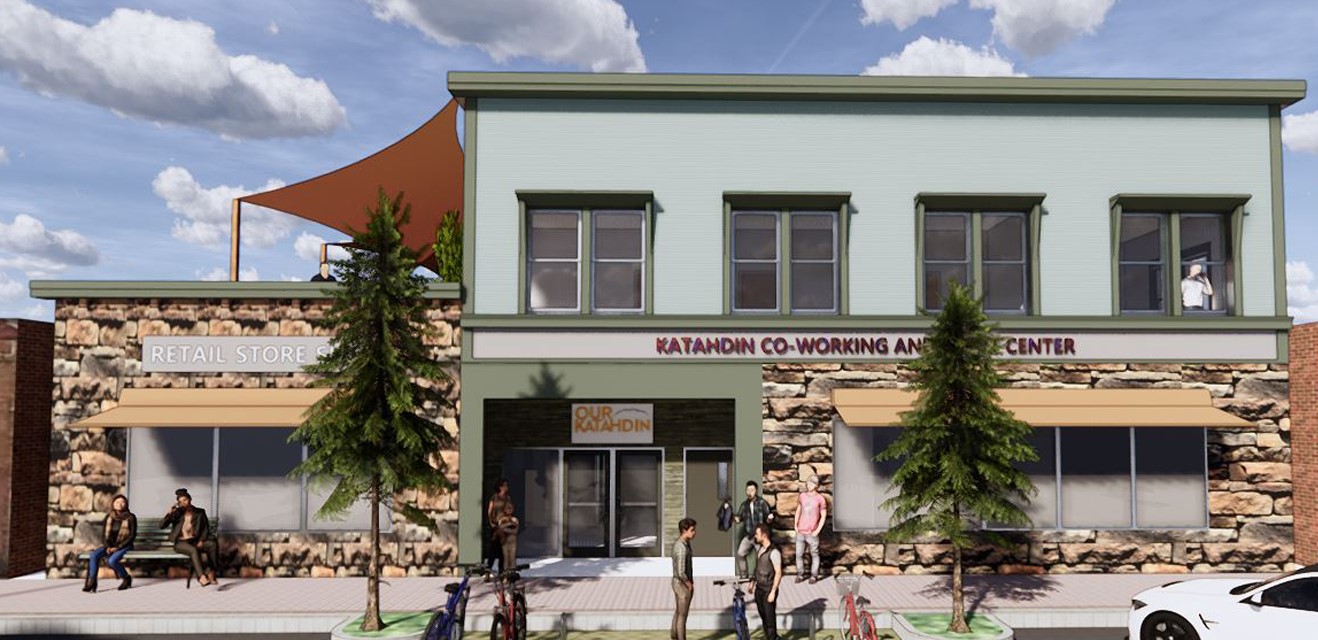 Energy in the community
Arcadia's first Millinocket project was the bath house at the public swimming pool, completed in 2008, part of a revival project the town took on as the mill closed.
The design and construction are sustainable, and a large portion of building materials were regionally produced. Stones from nearby Millinocket Stream were cast into the pool deck's pre-wash basin in a nod to the town's original swimming hole.
The design won an Honor Award from the Pennsylvania Council Society of American Registered Architects in 2008, and was called by judges from Maine's chapter of the American Institute of Architects a "huge signpost for a small community."
The design for the library renovation, which began in the spring, and the Penobscot Avenue Our Katahdin building are part of an economic resurgence in the town that Bard and Santerre say they're excited to be part of.
The library, built in 1961, is being overhauled in two phases, to modernize as well as "futurize" it. The former Miller's department store building languished vacant for more than a decade before Our Katahdin bought it and began the renovation. It's recovery is considered a major step forward for downtown.
Arcadia also specializes in industrial product design, and their reasons for extending their business and lives to the region are multiple, Bard said. They want to better service the clients they already have in the area, as well as "expand our reach deeper into north/central Maine as architects and product designers."
They also want to gain more flexible work space for prototyping, as well as and office space "at much, much lower per square foot cost than we can find in southern Maine," she said.
The outdoors is also a factor. "Closer access to wilderness opportunities and a community that's important to us which we plan to integrate into our work/lifestyle future," she said.
The town is also happy to have them, said Gail Fanjoy, former president of the Katahdin Chamber of Commerce.
"It's exciting to see these new ideas, renovations, investments and energy to be put into our community and buildings, and what makes it so special is that in a place like Millinocket that has weathered hard times, people who live here or are new to Millinocket realize that their efforts are impactful and the ripple effects are significant," Fanjoy said.
"It's exciting to be part of the transformation we are experiencing in the region and we're happy to welcome newcomers and our returning natives alike."
Reusing what's there
Arcadia's architectural niche is manufacturing and municipal buildings.
While manufacturing, in particular, can be expensive designs, Santerre said, the firm's objective is to reuse as many resources as possible.
One notable design is the 5,500-square-foot training center in the Sterling Rope production building in Biddeford.
Santerre said the design took advantage of existing interior walls, and doors, frames and hardware were reused. Hardypond Construction was the builder.
Bard said that reusing materials and making use of what's there "is a big part of who we are as a business."
"We focus on reusing what we can, rather than wiping the slate clean and starting over."
Santerre is an architect and industrial designer, while Bard an interior designer and urban planner. Bard said that brings a perspective to projects that other firms may not.
They also do industrial and product design — projects ranging from a mobile food cart for Rebel Cheesecake, to a four-sectioned hair-coloring bowl.
A recent design they helped with is DooLoop, by Beth Herriman, of Cape Elizabeth. DooLoop is a holder for a dog waste baggie that attaches to the leash, leaving the dog walker's hands free.
Harriman is a Season Five contestant on "Greenlight Maine." [Santerre, who's a judge on the show, recused himself from Herriman's project.] Arcadia also helped connect Herriman with resources for producing the loop, made of biodegradable plastic and manufactured in Kennebunk.
That project, too, has a MIllinocket connection. John Hafford, of designlab, a Penobscot Avenue business, designed the logo and other graphics for DooLoop.
Santerre and Bard said being part of Millinocket's active and growing design and technology community, as well as its redevelopment, is exciting.
"People are really working hard to make a positive impact and we felt [buying the building] was an opportunity to contribute," Bard said. "It was kind of an aligning of planets that brought us, really drew us, to that part of Maine."