PK Floats named EMDC Business of the Year
Posted on April 11, 2023 | Success Stories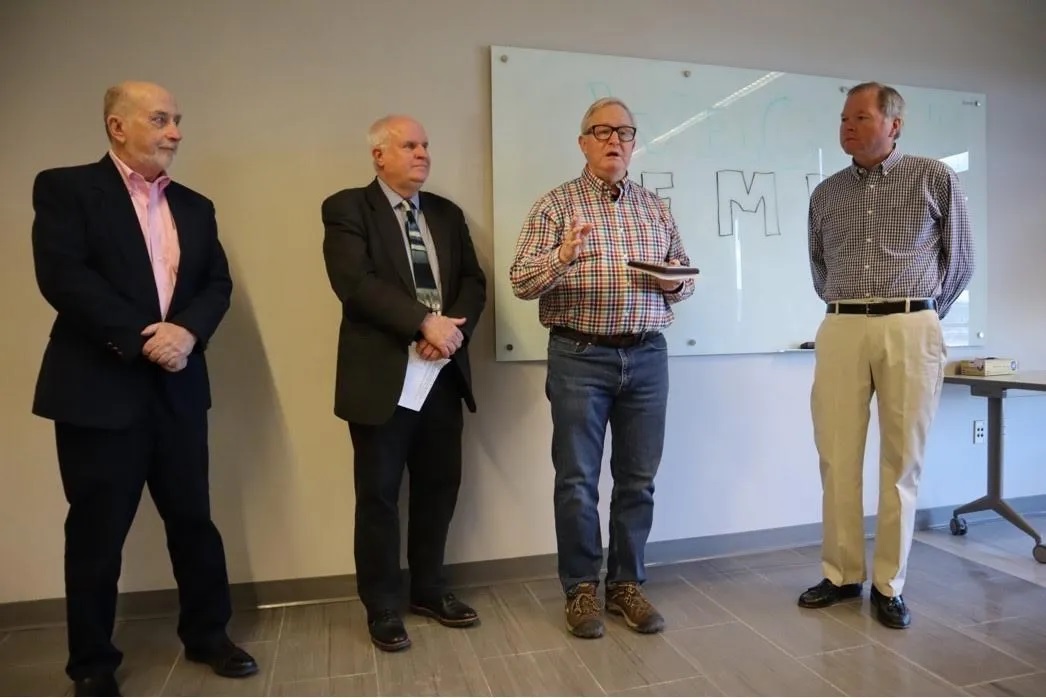 BDN Community, Bangor Daily News
LINCOLN — PK Floats of Lincoln has been named the Eastern Maine Development Corporation's Business of the Year for 2022. The honor was presented to its CEO Pat McGowan by Kevin Gregory, a former displaced mill worker who joined EMDC after working with EMDC's workforce development programs.
PK Floats produces handmade amphibious floats that attach to airplanes and are sold all over the world. McGowan, a former legislator, SBA regional administrator, Maine Commissioner of Conservation, and author, has led the company in investing in its workers, many of whom are former paper mill workers with exceptional skill sets.
Lee Umphrey, CEO of EMDC, praised McGowan's leadership in his community and his commitment to making PK Floats a world-class business in Maine. "Throughout Pat's career he's made a big impact on public policy," Umphrey said. "Today, he is putting that experience into practice as a business leader in his community while making PK Floats a world-class entity here in Maine that cares for and develops its workers."
EMDC's Kevin Gregory, who presented the award to PK Floats and McGowan, praised the precision that goes into building the floats and lauded PK Floats as an example of a business that invests in its workers. Gregory, a past winner of the EMDC Tom Davis award, also shared his own story of being a displaced worker who found new opportunities through EMDC's workforce development programs. "I came to EMDC first as a displaced worker, who took advantage of EMDC's workforce development services before ultimately joining EMDC in 2008 as a peer support worker in Millinocket." Gregory said.
"Kevin embodies our work and mission. He made a difference when he was first hired by guiding his peer displaced workers, and he continues that effort everyday by connecting and supporting our clients to good jobs with great businesses such as PK Floats." said Umphrey.
In accepting the award, McGowan thanked EMDC for the honor and praised the organization's role in supporting the economy in Eastern Maine and beyond. "Thank you very much to the entire EMDC team, who I believe are real heroes in our economy, especially in northern Penobscot County," McGowan said. Just in the last few years, PK Floats have four OJT (on the job training) and three Work Experience youth workers. Together, we are exploring Apprenticeship opportunities.
McGowan also highlighted PK Floats' contributions to Maine's economy and its commitment to producing high-quality, Maine-made products. "We make beautiful handmade, Maine-made floats that attach to an airplane and are sold all over the world," McGowan said. "We have sold our products all over Maine, to residents, forestry service, and have even sold our top-of-the-line float to the head of Google Security, who was a former Navy Seal and FBI agent."
McGowan added that PK Floats' success is due in part to its partnership with EMDC and the organization's workforce development programs. "Many of our employees are former paper mill workers, who have great skill sets that have been enhanced through our partnership with EMDC," he said. "I think EMDC is right out in the forefront of our economy."
The recognition of PK Floats and McGowan by EMDC is a testament to the company's commitment to investing in its workers and producing high-quality products. It also highlights the importance of workforce development programs in helping displaced workers find new opportunities and supporting businesses that contribute to Maine's economy.
If you have questions about EMDC and its workforce development programs, connect to workforce@emdc.org, or call 207-942-6389.
For more information about PK Floats, visit their website at https://pkfloats.com.