Swab maker will double output in partnership with Cianbro, BIW
Posted on May 1, 2020 | News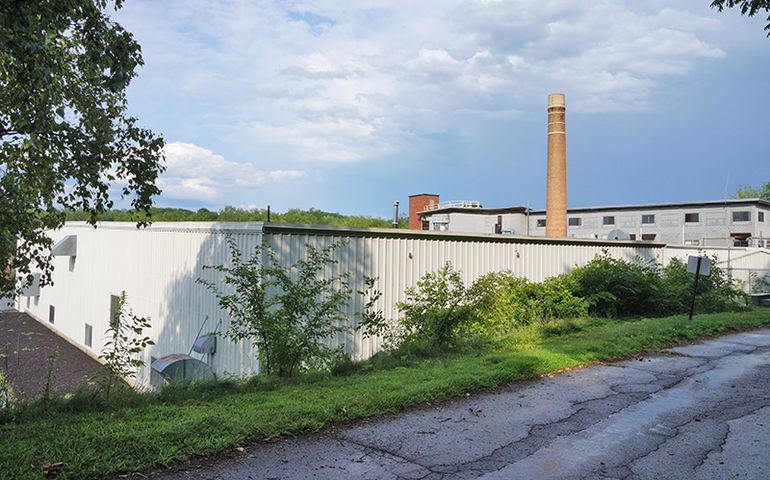 Guilford medical device manufacturer Puritan Medical Products will up its swab production for COVID-19 testing to nearly 40 million a month with an expansion into a Pittsfield building owned by Cianbro Corp.
The expansion will allow the Puritan to meet the federal government's order to increase production from the 17 to 18 million swabs a month it has been making. Puritan will make an additional 20 million a month, 10 million more than the federal government requested in mid-April. Puritan expects to hire 100 to 130 people in the coming weeks to work in the Pittsfield plant.
Puritan Executive Vice President Tim Templet said Friday morning the new production plant will have the capability of manufacturing 40 million swabs a month, but will begin with 20 million as it gets up and running. Production in Guilford will continue as it has been.
Made possible by $75.5 million in Defense Production Act money included in the CARES Act, the expansion involves renovating a 144,000-square-foot building Cianbro owns at 129 Main St., in Pittsfield. The building has been mostly empty since UTC Fire and Security moved out in 2015.
With the federal grant allocation, Puritan had been looking for a location to expand, and Cianbro contacted the company about the building, Templet said. He told Mainebiz that Puritan will lease the space from Cianbro. Production should be up and running in about five weeks.
Governors across the country have called for an increase in testing for the coronavirus, but medical officials have cited a shortage of swabs used in testing as one reason tests are not being produced faster. By mid-April, Puritan had about 320 employees on two 10-hour shifts a day, six days a week, making swabs as fast as possible the testing, CFO Scott Wellman said at the time.
Employees are now working seven days a week, officials from Hardwood Manufacturing LP said Thursday. Puritan and its sister company Hardwood Products LLC are both under the Hardwood Manufacturing umbrella, which has a total 550 employees.
Not just a cotton swab
Bath Iron Works is assisting the effort by building 30 wrapping machines, and an out-of-state company is providing the parts for the "flocking" assembly, Templet said.
Manufacturing the swabs is a sophisticated process with specialized equipment needed for each type to both make the flocking, then wrap it on the plastic handle. The company makes three different types of swabs used for COVID-19 testing, each with different types of synthetic flocking material, Templet said.
Overall, Puritan makes more than 1,200 types of swabs and single-use sample collection devices for the medical, diagnostics, microbiology, forensics and other industries. It is the only company in the U.S. that makes the specialty long-handled swabs needed for COVID-19 testing. Another manufacturer of the swabs is in Italy. The swabs are sold directly to the U.S. Department of Health and Human services under the Defense Production Act. Normally Puritan sells to medical distributors.
"Unlike an ordinary cotton swab, it's actually a highly sophisticated diagnostic tool. In fact, it's regulated, patented, and specialized," a Tuesday blog post on the company's website says. "This also means these swabs aren't easy to manufacture on the fly."
U.S. Sen. Susan Collins, R-Maine, toured the Guilford plant Thursday before leading a Pittsfield news conference about the expansion.
"Don't think of these as a Q-tip. These are very sophisticated swabs. And they're absolutely essential as we expand testing," she said. "And expanding testing is necessary for us to get back to a fully normal economy in which we can resume our lives."
Nirav Shah, head of the Maine CDC, said Thursday the state will get 15,000 swabs a week, beginning Monday, from the federal government. He said it's not clear how many of those will be Puritan swabs, but the company has been a big help to the Maine CDC since the outbreak began.
"We've had a longstanding relationship with Puritan," Shah said at his Thursday briefing. "Early on in this outbreak we connected with them and they've been a great partner of ours. Even as many other places in the country were finding it challenging, Puritan was always able to help out Maine CDC and our laboratory in order to keep a steady supply of swabs coming in."
He said the 15,000 a week is in addition to any the Maine CDC is getting from the Guilford company.
Looking to hire 100 to 130
The company has hired about 20 production workers since COVID-19 production ramped up, Templet said. The new location will require 100 to 130 more workers.
Founded in 1919 as a toothpick manufacturer, the company has found it difficult to hire workers in sparsely populated, off-the-beaten path Guiltford, Templet told Mainebiz in a 2019 feature.
He said Friday that the Pittsfield location draws from a different area and he's optimistic that the needed workers will be found in time for the production ramp-up.
Pittsfield is in southern Somerset County, about a half-hour north of Waterville, and has an exit on Interstate 95. When UTC closed five years ago, more than 300 jobs were eliminated in the area.
Cianbro since 2015 has leased another former UTC building from the Eastern Maine Development Corp., using it for training. It bought the sprawling UTC warehouse in 2018 for $315,000.
He said that the expansion is not temporary, but the company will continue there once the pandemic crisis is over. Aside from COVID-19 testing still being necessary in the future, he said, "We'll still have the flu, we'll still have sexually transmitted diseases."
The partnership was announced at a news conference Thursday afternoon in Pittsfield, where Cianbro has its headquarters. It was attended by Collins; Cianbro Chairman Peter Vigue; Templet, as well as other Hardwood Products LLC officials.
Collins lauded the partnership between Puritan, Cianbro and BIW. "I am so proud of these Maine businesses for stepping up for meeting the challenge," she said.
Templet, too, praised the joint project, saying, "Maine has the ingenuity, Maine has developed the partnerships. It's just a really good day."