This Century-Old Family Company Became the Most Important Manufacturer in the World in 2020
Posted on January 7, 2021 | Success Stories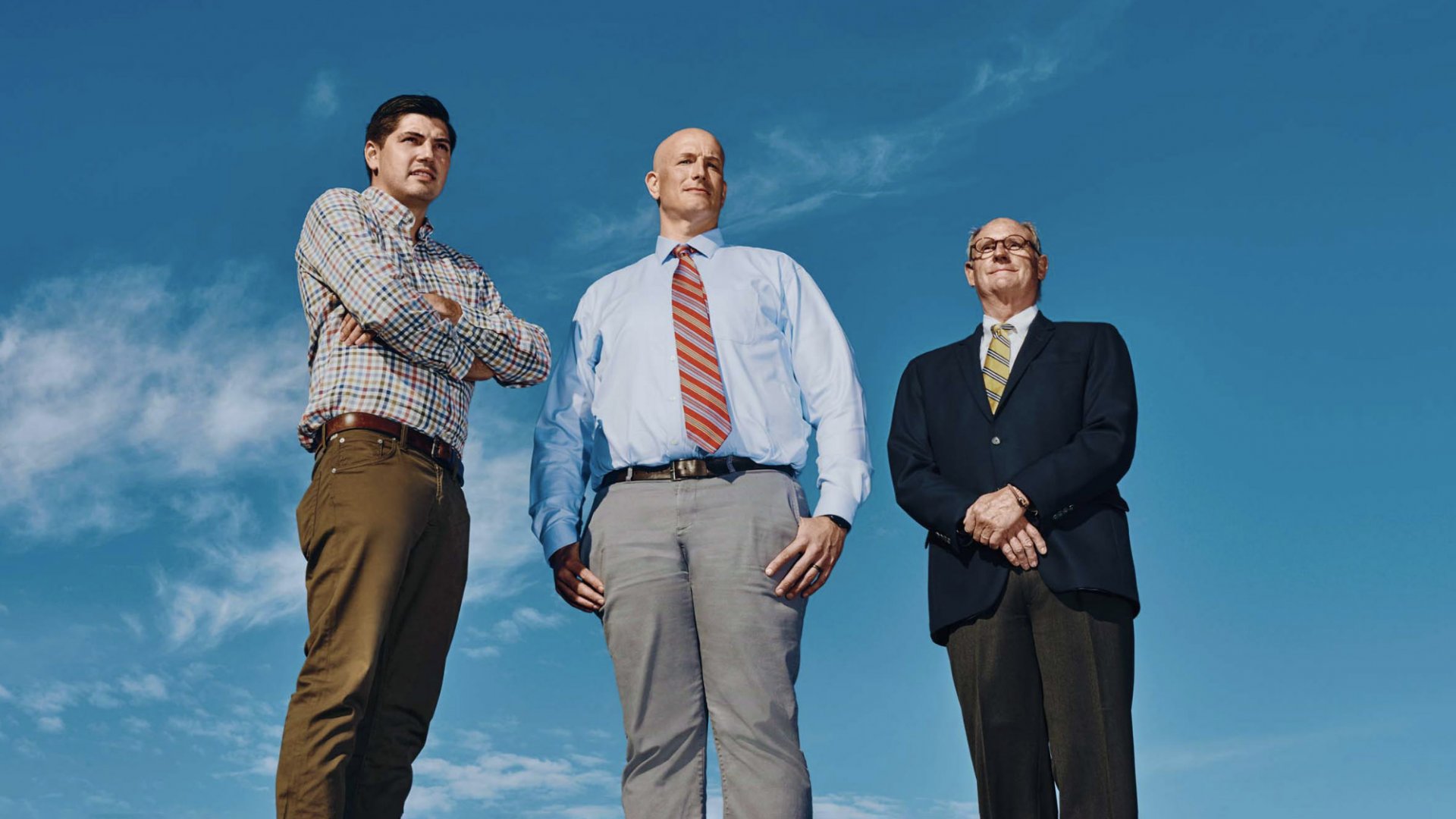 Presenting Inc.'s Company of the Year: A medical supplier in remote Maine executed a lightning-fast expansion to meet an historic challenge.
The alarm sounded twice on Saturday, March 14. First came a mid-morning phone call to Timothy Templet, co-owner of Maine's Puritan Medical Products, from Brett Giroir, the U.S. assistant secretary for health, who wanted to know how fast Puritan could ramp up production of its nasal swabs. Two hours later, a second call went to Scott Wellman, Puritan's interim general manager, who was waiting in line for lobster rolls and sent it straight to voice mail. He would soon find out it came from Maine senator Angus King, who was trying to secure Puritan swabs on behalf of his senatorial colleague in Oregon. "All of a sudden, I'm getting a call from a U.S. senator on the weekend?" Wellman remembers thinking. "This is big. There's a frenzy, a rush starting."
The reason for the emergency calls was no state secret. It was shot through the morning news­paper: A third NBA player tests positive for coronavirus; President Trump is potentially exposed to the virus by visiting dignitaries; the Maine CDC reveals three new presumptive positive tests in the state. "Clearly," Templet says, "this was not a drill."
While the media focused on the spread of the disease, public health officials and medical experts were waking up to how unprepared the nation was for this emergency. Effective vaccines and curative treatments were far off, and supplies needed to cope were scant. The U.S. faced dire shortages of personal protective equipment and medical machinery like ventilators, and of hospital beds as well.
All of which put added emphasis on testing. Experts agreed they had no chance of defeating the disease–or even containing it–until they could diagnose it. In the case of Covid-19, testing was necessary to identify those in need of treatment and to slow the virus's spread by isolating the infected, especially since such a high percentage–perhaps 40 percent, according to the CDC–are asymptomatic. Making Covid testing widely or universally available had the potential to save millions of American lives and livelihoods; it was the key to keeping essential workers on the job and maintaining any hope of opening the economy and education system safely.
There was one problem, though, as Templet and Wellman learned from their Saturday phone calls–and they were it. The swabs Puritan made were essential to testing for Covid-19, and they were already in perilously short supply. A day after calling Templet, Giroir warned of "speed bumps" in the testing supply chain on a conference call with 300 laboratory representatives and state and federal health officials. At a press conference, California governor Gavin Newsom said: "I'm worried now about access to an adequate number of swabs." A day later, former FDA commissioner and current Pfizer board member Scott Gottlieb took to Twitter to echo an emerging consensus: "Swabs could be a weak link in broadening testing."
The concerns were well-founded. Only two companies in the world made the type of nasopharyngeal swabs required for Covid testing, producing an estimated two million units per month combined–just 5 percent of the 40 million per month officials said were needed in the U.S. alone (a laughably low miscalculation since revised to 150 million per month). One firm, Copan Diagnostics, was based in Lombardy, Italy, which was being decimated by the West's first major Covid outbreak and was in lockdown. The other was Puritan Medical, the pride of tiny Guilford, Maine (population: 743). So in one of the stranger turns in this most shocking year well into the 21st century, the most highly sought-after piece of tech on earth was a plastic stick with a tuft of polyester on one end–and the most important manufacturer in the world was a century-old family company founded as a toothpick maker.
In the low-profit-margin sector of medical supply manufacturing, Puritan had built its business model on diversification. The company manufactures 1,200 products, including 65 types of swabs–ranging from basic cotton ones to cheek swabs used in home DNA testing kits to the nasopharyngeal swabs needed for the first-generation coronavirus tests. Suddenly, the company set out on a breakneck course of extreme specialization.
Puritan, with reported annual revenue of $45 million, received government contracts totaling more than $126 million through the Defense Production Act and the Cares Act. In short order, Puritan leased, gutted, and outfitted a 100,000-square-foot factory, increasing its production of various Covid-test swabs to 90 million per month by the end of November. Before the end of March 2021, the company will bring yet another new plant online that will increase its capacity by an additional 50 million swabs per month. All told, Puritan will have increased its production capacity more than 30-fold within a year.
Fittingly, Puritan came into being in another act of entrepreneurial moxie during a global pandemic. In 1919, Templet's grandfather, Lloyd Cartwright, launched the Minto Toothpick & Specialty Company in Saginaw, Michigan, as influenza was ravaging the country. The next year, when that pandemic's fourth wave was cresting, he moved his factory to Guilford to be closer to the area's plentiful white birch forests. Renamed Hardwood Products, the business expanded its product line to include steak markers, cocktail forks, ice cream sticks, and, in 1928, Puritan-brand tongue depressors, the company's first medical product, which it still produces today.
The company nearly perished when a fire that started in a dryer razed the plant and warehouse in 1958, coincidentally during the final days of the 1957-58 H2N2 flu pandemic. When rebuilding, it did so with an eye toward the future, expanding its foothold in the medical products market, starting in 1965 with sterile packs and cotton-tipped swabs, followed by specimen-collection swabs for NASA. Eventually, Puritan spun off from Hardwood Products and began winning patents for foam-tipped swabs, contamination-resistant DNA-collection kits, and an array of flocked specimen-collection swabs.
Though at first glance they might resemble Q-tips, these swabs are highly specialized examples of elite materials engineering. The designs vary by application–swabs used to clean machinery are distinct from those used to clean wounds and diverge in many ways from swabs for collecting laboratory samples. Collection swabs vary as widely as the sites where they do their work–from an alleyway crime scene to a delicate mucous membrane. Small differences in size, tip material (cotton, polyester, foam), and transport medium (dry, water, or alcohol) allow for swabs tailored to the microscopic particles being collected and environmental complications such as moisture, dust, lint, static, and unwanted DNA.
Even before Covid-19, Puritan maintained much of its factory floor as a sterile environment. As it manufactures and packages its swabs, the company must eliminate any possibility of contamination, which can make the difference between life and death in both criminal and medical investigations. When President Trump traveled to the Guilford plant to congratulate Puritan's team in June, Puritan had to curtail the day's production of swabs and destroy what it did produce in a short demonstration run, because of the number of outsiders who would be in the plant for the visit, including bomb-detecting dogs on Trump's advance team, members of the media who weren't wearing smocks–and a maskless president. The company rescheduled the day's production for the weekend.
The earliest Covid tests required nasopharyngeal swabs flocked with short strands of synthetic fiber to capture microscopic particles like the coronavirus, which can be just 60 nanometers in diameter. Many newer tests are less invasive and don't need samples from the pharynx. These rely on nasal and oral swabs with shorter applicator sticks wrapped in finely porous polyurethane foam, pocked with tiny perforations (100 per square inch) that trap viral particles. In each case, Puritan's design and pro­duction processes are highly specialized and proprietary. Historically, the com­pany has fab­ri­cated its own machinery to avoid having would-be copycats, primarily in China, exploit their intellectual property.
To help Puritan ramp up, the White House Corona­virus Task Force provided logistical assistance and a $75.5 million contract under the Defense Production Act. Wellman quickly identified a production site in Pittsfield, Maine, about 30 miles from Puritan's headquarters, a former smoke detector plant that had lain idle since 2014. He and Templet then entrusted the factory conversion to 29-year-old manufacturing engineer Derek McKenney.
A second-generation employee (his mother has worked at Puritan for 30 years), McKenney had supervised the introduction of new product lines and packaging machinery here and there, but nothing anywhere near this magnitude. Under normal circumstances, the $50 million construction project, which included all new machinery, would have taken 18 to 20 months; instead, McKenney says, "we had eight weeks."
With teams working in two shifts totaling 19 hours a day, McKenney's schedule started with a project management call at 3 a.m., seven days a week. They faced a setback when they found lead paint and asbestos through­out the site and had to demolish every interior and exterior wall. "The only thing remaining here is the structural steel and the concrete slab," he says. "Everything else is new."
Time constraints forced Puritan to eliminate any inclination to deliberate. "The biggest thing we learned from this project was that the decision-making process has to be clearly defined and very structured," McKenney says. That entailed stationing management onsite and dele­gating additional authority to project managers, an approach Puritan is replicating at its second facility in Pittsfield–a 79,000-square-foot former San Antonio Shoemakers factory that it is converting as part of a $51.2 million Cares Act contract.
Meanwhile, Puritan's director of machine design, Randy Edgerly, took up residence at the Bath Iron Works in Bath, Maine. The naval shipbuilder had, at the government's behest, set aside its work building guided-missile destroyers to fabricate 30 custom swab-wrapping machines for Puritan. With no time to risk on mistakes in fabrication, Edgerly took a machine offline and had it trucked over to Bath, so the workers there could refer to a working model and not just blueprints.
Puritan's new factories feature high-speed production lines to meet ambitious goals, with new robotic technology that requires a steep learning curve. To operate the first Pittsfield facility, Puritan needed to add 300 employees to the 550 already there; with another 200 jobs coming to the second Pittsfield facility, Puritan will effectively be doubling its head count.
Puritan's location in sparsely populated, highly forested Piscataquis County has posed recruitment challenges. ("Two hours from points of interest in all directions," boasts the website.) So, at first, Puritan brought in temporary workers. "We had teachers and professional people who would come in and work a second shift just because they wanted to help their nation," Templet recalls.
As new staff started to arrive, they were delayed by an onboarding process made more methodical by Covid protocols. (Puritan has not had a single worker test positive for the virus.) Many positions on the production floor required significant technical training, which was slowed by social distancing rules and restrictions on the number of attendees at sessions. "We hadn't thought of that," admits Wellman. As a result, the new factory will include a sizable training space. "We're learning as we go," he says. "There are no case studies at business school about building two factories during a pandemic."
At least one hazard lies ahead for Puritan after the world emerges from Covid. Copan Diagnostics, its Italian competitor, has sued it, alleging patent infringement over five flocked swabs; the parties tabled the proceedings to focus on the pandemic. But legal issues aside, Puritan appears well-positioned to thrive in the post-pandemic world, armed with new infrastructure and invaluable problem-solving experience. Templet doesn't foresee a drop in demand for Covid testing anytime soon and believes a focus on readiness for the next global health crisis exists both at home and abroad. "This pandemic has been a wake-up call about stockpiles and being prepared," Templet says. "What we know about the industry is that you always need a sample. You always need a swab."
Templet and Wellman aren't looking to take a victory lap while the nation is suffering through a catastrophic second wave. But they know their story will resonate when this pandemic finally recedes. With tens of thousands of lives hanging in the balance, Puritan executed a lightning-fast expansion that proved not only the com­pany's mettle but also the potential of public-private partnership and the power of Yankee ingenuity.
"There were a lot of questions," Wellman admits. "How on earth are we going to pull this off? How many times do things have to go just right?" Then he reflects on how Puritan's staff helped save lives and livelihoods, and that they are the people who will be working with him on the next projects. "And when you realize that," he says, "you have confidence you can keep making miracles happen."
Correction: An earlier version of this article incorrectly stated that President Trump's refusal to wear a mask precipitated Puritan's disposal of a day's production. Puritan had scheduled the day's production for the weekend because of the number of outsiders in the plant and planned a short demonstration run for the visit. The production from the demo was later destroyed.