Yurt campground looks to build on Acadia draw with wilderness feel
Posted on May 23, 2022 | News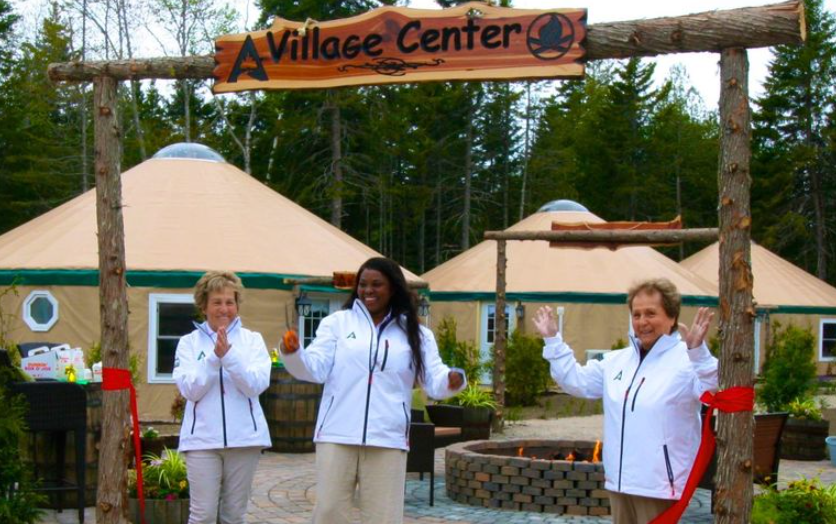 Laurie Schreiber, Mainbiz
Ayurt campground with a village theme opened in the small coastal town of Tremont, and already has 80 reservations coming from as far as Israel.
"One of the goals to find a way to accommodate the increasing number of tourists, but do so in a way that's respectful of the earth," Kenya Hopkins, who owns the enterprise with her husband James, told Mainebiz.
Acadia Wilderness Lodge, at 38 Kellytown Road, styles itself as a luxury campground with a focus on wellness and nature. Hopkins and her family hosted a ribbon-cutting on Thursday.
The idea hatched about five years ago. The 2-acre campground includes eight yurts, all named and themed after elements associated with nature. Each yurt, about 700 square feet, has two bedrooms, a kitchen with a full-size refrigerator, a living room space with a smart TV and gas fireplace, full bathroom with soaking tubs, and individual outdoor cooking and seating areas with a gas grill and outdoor fireplace. The campground makes aromatherapy, hydrotherapy and relaxation therapy products available. The grounds include a community fire pit, game area, apple orchard and herb garden: guests will be invited to pick apples and herbs.
The acreage is set within a large wooded area on a residential road in one of the more remote locations on the southwest side of Mount Desert Island. Tremont is the island's smallest town and is home to parts of Acadia National Park, but is about a 30-minute drive from the entrance to the majority of the park and from the larger town of Bar Harbor, both of which are the island's primary tourism draw.
Hopkins said the focus of the campground is wellness, connectivity, and nature.
"Tremont is a very special part of Mount Desert Island," she said. "The town has been great, and we are being very respectful of the natural beauty and elements of this space."
Hopkins has a master's degree in business and is a practicing registered nurse. Her husband James grew up in Tremont and is a property manager.
The two met, married and started a family in Miami.
They decided to move back to James's hometown to be near family. James's had inherited a plot of land from his grandfather.
"So we pondered ideas, to talked with the town and came up with doing a campground," said Hopkins. "That idea came because my parents came to visit in the summer and there was no place for them to stay. So we said, We've got this land, maybe we can do something with it."
They engaged landscape architect Cynthia Orcutt and Southwest Harbor civil engineering firm G.F. Johnston & Associates to work out ideas for the campground, which included installing basic systems for sewer and water.
Originally, the idea was to install guest cottages, but the shortage of materials during the pandemic had them rethinking the plan. Yurts, she said, provided a blank slate that would accommodate the interior design and custom woodwork they had in mind.
"Yurts are pretty standard," she said. "We wanted to make sure we could fit a family comfortably."
The couple has invested about $1.5 million into the project. Machias Savings Bank, Eastern Maine Development Corp., and the Maine Small Business Development Corp. provided financing.
But that's likely just the start, said Hopkins. Plans in the years ahead include adding glamping tents and ocean-view yurts. The couple owns about 50 acres adjacent to the campground.
The goal is to cater to increasing numbers of tourists coming to Maine to be surrounded by nature, she said.
"It's in our name, Acadia Wilderness Lodge," she said. "From a marketing standpoint, you're able to stay here and relax and be in the middle of nature, but you're just a short drive away from the hustle and bustle of Bar Harbor."
Marketing includes social media, Google ads, and list placement with organizations such as the Maine Tourism Association. The couple also worked with Bangor advertising agency Sutherland Weston and Decatur, Ga., marketing firm Flavvrr.
It's expected the season will run at least through October. Reservations are coming from Utah, Florida, California and Israel.
"So they're finding us," said Hopkins.